Another Run to State Championship?
Summer is closer than you might think and that means baseball season is about to start. This is not only exciting for students who love watching the games and cheering on the Spartans during summer break, it is also exciting for the players and coaches. Most of them love nothing more than spending the day outside in the sun playing their hearts out on the field. To get some more insight about the upcoming baseball season, I interviewed Spartan Coach Carlos Palomo.
When I asked what his goal for this season was he answered "My expectations are really high, especially because of last year's run to the state championship. I'm looking forward to continuing to do the things we always do at practice, having a lot of success and making another run at districts and state championship."
Coach Palomo mentioned something they could improve from last season is "staying in the moment and understanding that it's a long season ahead of us. We also have to be consistent defensively and stay disciplined on and off the field."
When asked what he tells the players before a game to motivate them, he explained "I tell them we have to control what we can control and the only thing we can control is our effort. We shouldn't focus on the failures we have during a game, but do the little things right. We have to play with energy and enthusiasm, but yet stay focused and do our job."
Coach Palomo's most emotional memories when it comes to baseball were the extra inning win at the district championships in Ogallala and the games against Hickman and Springfield at state. He pointed out that the two games during state were especially emotional, "The game against Hickman was like a revenge game because they ten-runned us the previous year. The win gave us a lot of confidence. The game against Springfield was in a very cool environment. The fan base was amazing. Ezra Ray had bases loaded doubled, which helped us take the lead. The kids were pretty heart broken when we ended up losing to Bennington 8-7. That's where the state tournament is this year"
A big part of the team are this year's seniors. With them gone next year a lot of things are going to be different. Mo said "I feel like I'm very close with this senior class. It would be fun to have one last ride, soak it in and create more memories. It will go in history as one of the most amazing classes ever. The true brotherhood that they have – they always have each other's back. We're expecting 28 kids this year."
When asked what the hardest thing as a coach is he explained, "I'm one of the most competitive coaches. I hate losing. That's why it's hard to be able to keep calm during the game, but I can't go crazy with my emotions because then my kids will do the same. Other things that can be hard are teaching the kids to stay in the moment and not give up and dealing with off the field issues. I have to remember they are kids and nobody is perfect. I have to be patient and understand it's a process. It can also be hard to try to explain to the kids that they are part of something bigger than themselves and my decisions are what's best for the team."
Last but not least, an advice he would give to any athlete is "continue to work your hardest and bring your best effort and energy. Life as a student athlete is very short so enjoy the moment, make the most of your experience and continue to be leaders on and off field."
About the Contributor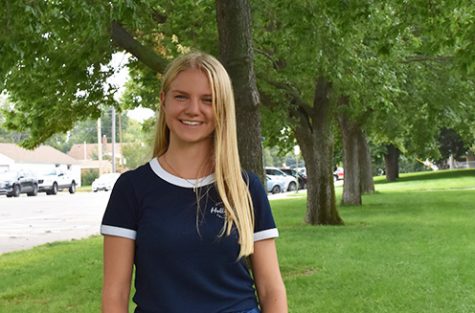 Lara Rieger, staff writer
Hey there! My name is Lara Rieger and I am a foreign exchange student from Germany. My host parents are Holly and Ronald Westemeier and I have a little...