Speech 2020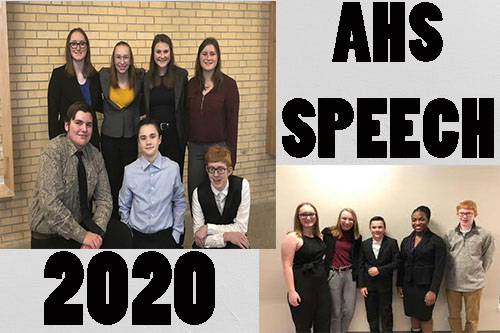 Along with basketball and wrestling season, January is also the beginning of speech season. This year's 2020 speech team consists of eight members. Four of which are returning members: junior, Saphina Achi, sophomores, Owen Weber, Carter Haskell and Julia Wilson. Joining this year are freshman, Annaka Digmann, freshman, Christian Soriano, sophomore, Morgan Moomey and sophomore, Chloe Mann. 
The speech team kicked off their season in Scottsbluff on January 11. Achi competed in Persuasive, Haskell participated in Informative, Digmann and Sorianto competed in Duet Acting, and Moomey competed in Humorous Prose. Wilson, Mann, and Weber did not travel for the first weekend. Achi made it to finals and scored the first place title for Persuasive.
On January 18, the team traveled to Gering for the second meet. Everyone traveled except for Achi. Again, Haskell competed in Informative, Moomey participated in Humorous Prose and Digmann and Soriano competed in Duet Acting. Traveling for the first time last weekend, Wilson competed in Humorous Prose and Weber competed in Informative. Along with her duet, Digmann also took part in Poetry and Moomey, Mann, and Wilson also performed in OID (Oral Interpretation of Drama) with a scene from "Friends." The OID made it to finals and took home eighth place medals. 
With half of the team being first year competitors, I wanted to see how they are feeling two speech meets into the season. In an interview with Mann, she responded that she joined speech, "because I wanted to be more involved in activities, and it looks good on a résumé." From her experience so far, she has learned "how to work with a team, how to write speeches, and talk in front of people." She was also asked what the most nerve-racking part of speech is, saying "right before you give your speech in your round, and you see what they did compared to yours." She then said her favorite part of speech is "listening to Morgan and [coach] Digmann argue." 
Also interviewed was Annaka Digmann. She stated that she wanted to join speech because, "last year I watched Laura work on her speech, and it looked fun." From her experience in speech so far, Digmann has gained, "patience, and being able to read poetry better." Digmann's favorite part of speech is "getting to hang out with people who have similar interests." 
Four members of the speech team are heading to a novice meet in Ogallala this Friday, then most of the team will travel to Bridgeport to compete again on Saturday. Good luck to the AHS speech team as they take on the rest of the season!