AHS Band Christmas Concert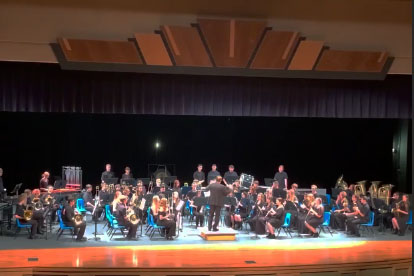 Along with all the other Christmas festivities going on at AHS comes the annual Christmas band concert. The concert was held on December 6 at 7 P.M. at the PAC. The band performed four pieces. Mr. Jeremy Eskam conducted three pieces, and Mrs. Laura Mangas conducted one. 
The concert started off with the piece called "Scamper," performed by a percussion ensemble. Then, the curtains opened and the concert band took the stage. The percussion instruments were moved back to their section and everyone got ready for the first piece. 
The first piece that the concert band played was entitled "Angelic Celebrations" and was composed by Randall Standrige. This was the piece that Mrs. Laura Mangas conducted for the band. This piece had a fast tempo and a percussion feature. Personally, this was my favorite piece played at the concert. 
The second piece played was titled, "The First Noel", arranged by Jeff Simmins. This piece was a classic that opened with a quiet clarinet part, and a flute solo played by junior, Courtney Cox. 
The third piece was titled "Second American Folk Rhapsody." According to jwpepper.com,"this medley is true to Grundman form with carefully crafted American folk songs in a symphonic setting." Grundman is in reference to the composer of the piece, Clare Grundman. Songs included in the medley are "Billy Boy", "Skip to My Lou", and "Shenandoah". 
The fourth and final piece played at the concert was the iconic piece "Sleigh Ride", composed by Leory Anderson. This upbeat piece ended the concert on a happy note. 
Now that the Christmas concert is over, the band will suit up for pep band season, while also preparing for their mid-winter concert and District Music competition.