Online Shopping
Hang on for a minute...we're trying to find some more stories you might like.
In just a decade, we've changed the way we go shopping forever – by buying goods off the internet: clothes, electronics, and even groceries. We go shopping for them, without ever leaving the comfort of our home. Thanks to retailers offering goods online, and the advancement of technology.
Online shopping has many advantages for shoppers. Retailers make their websites easy to use, and you're in luck if you have a credit card. We no longer have to shop locally or through catalogs. We don't have to bother with store hours, staff, parking and hundreds of other problems that are associated with shopping trips. Your shopping trip can take as long as you'd like, or as short. You can also shop from anywhere in the world.
As great as online shopping is, it certainly doesn't come without it's disadvantages. Online shopping has often been critized for not being very secure. You don't really know if a store is reliable or not, and if you will be shipped the goods you paid for. Many times the store is just a scam that is put up to gather people's credit card information along with social security numbers.
Another one of the disadvantages of online shopping is you can't really know for sure that what you are buying is what you really want to buy. Unlike an actual store, you can't see or feel first hand what you are purchasing. With online shopping, you just have to take the word of the description of the product which might be made out to be more appealing than what it actually is.
Olivia Knapp, an AHS sophomore says, "I think online shopping is bad because it's starting to buy the local stores, like Kmart and Shopko, out of business but it's quick and easy. My least favorite thing is not being able to try stuff on."
There's nothing quite like being able get your groceries and not having to leave the comfort of your own home. If you are one of those people who like to shop til you drop, you can now either drop in the parking lot, or at home.
About the Contributors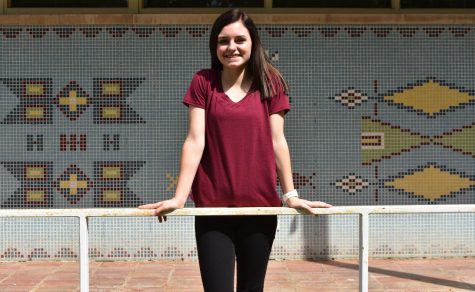 Nikki Haller, Staff Writer
Hi everybody! I'm Nikki Haller. I am a sophomore at AHS and this is my first year writing for the SPUD. I am the 15 year old daughter of Tonya Haller and...