Old West Festival 2017
Hang on for a minute...we're trying to find some more stories you might like.
It's 1:30 p.m. on the Scottsbluff High School football field. The Alliance High School marching band begins take to the field for the field show portion of the Old West Marching Competition. Emotions ranging from excitement to fear to sadness spread across the field. For many, this is the first time that they will compete with the high school band at Old West, but for few, it is the last time they will ever take this field with this band.
Everyone in the band was worried about the end outcome of the competition and went into the parade feeling uneasy, but never showed it. The band marched to the street with confidence, and it showed. There was no hesitation what so ever, and we ended the parade route with ease.
After the parade, it was time to perform in the field show. We knew we were ready, but there was still a small fraction of fear spread throughout the band. We marched on the field like we owned the place. Yes, there were still mistakes, but we owned them. The band became one all the way to the end of the show. We may not have received the standing ovation that we got at the end of last year, but the crowd still lit up and that made all of the 7 am practices worth it.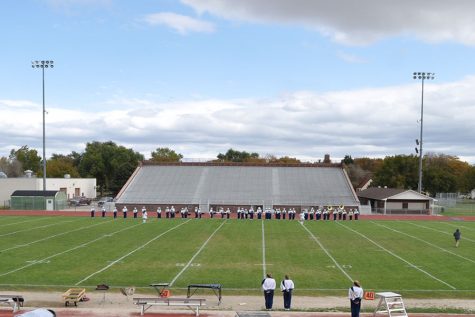 This season of marching band is and will be unlike any other before it. The main reason? The majority of the band are freshman. In years past, we have been a very upperclassman oriented group of individuals, but this year the freshman had a chance to rise up and lead without being criticized for it. While there was hesitation from the freshman at first, they pushed through and worked hard at everything they did.
Sophie Collett, one of the few seniors, responded when asked what she thought of the program this season "I live with more satisfaction of knowing that I was a foundational brick in this structure than I will ever have knowing that I could have been the chimney or the crowning piece."
In the end, we came out on top. The band received a superior in both the parade and field marching competition, but there is still the state competition in Kearney. One more chance to show what we are made of, and one last show for the seniors. It could be a shining moment for us, or a moment of pure panic that won't seem to end. We have put in the effort and time, and now we must show how good this young band can be.