Gooding Rocks Financial Literacy
Hang on for a minute...we're trying to find some more stories you might like.
On Friday, September 15, all students gathered into the PAC to watch a concert. However, this wasn't just any concert; it was the concert with a meaning of finance.
The event started out with a little music. The band, "Gooding," walked on stage and began to perform music from both their new and old records.
At first, the crowd of high schoolers were hesitant and sat quietly, but after the first song, it became quite clear that the music that was being played was strictly rock and roll. There was no underlying meaning that had to do with financial literacy.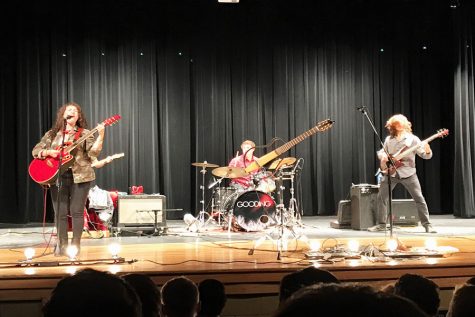 Gooding played their music for the first half an hour and then showed the crowd a short video. This video showed all that the band had been involved in. Gooding was not just a band that went around and talked to high school students. Instead, they were a band that had been invited to the White House, and their music had been featured in movies such as Fast and Furious and Walk the Line.
After the video, Steve Gooding, the lead singer of the band, came out and began to talk to the crowd about financial literacy and how to manage our finances smartly.
Throughout the talk many students were surprised. The talk was not boring, but in fact very interesting and full of information. Gooding was blunt and stated that financial literacy was "not sexy", but a necessary topic that needs to be talked about.
He then went on to talk about smart ways to manage your money and just how important it is to open a savings account that adds interest to your retirement fund. Gooding also stated that female bankruptcy is on the rise.
To end the talk, Gooding mentioned some famous people that have no financial literacy, such as Johnny Depp and 50 Cent. He then mentioned different celebrities who have managed their money the right way, such as Tyra Banks and Chance the Rapper, who have donated money to great causes.
"My favorite types of CEO's are the ones that started from the bottom. That builds character," said Gooding.
To end the event, the entire band came back on stage and answered some questions from the audience. Each gave a different outlook to every question that was asked and gave great advice on how to stay out of debt and how to dig yourself out of debt.
After Gooding finished talking about financial literacy, the band performed one last song to end the assembly, leaving all students wondering in what ways they could protect their money and their future.
About the Contributors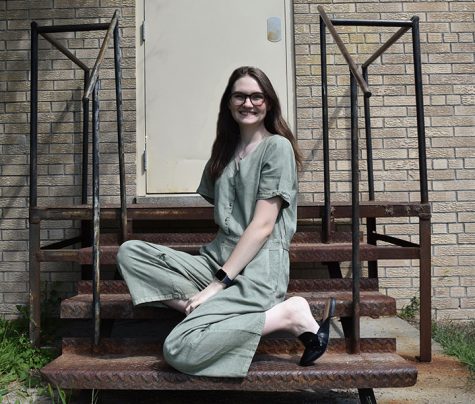 Aubrie Lawrence, Editor-in-Chief
Hi! I'm Aubrie Lawrence. This is my third year writing for the SPUD. I am a Senior here at AHS, and I am the Editor-in-Chief for the SPUD. I am the oldest...