Cross Country Meet Saturday 17; Highlighted Player Jenna Messersmith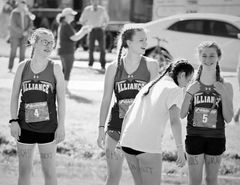 The Cross Country Meet
The Alliance Cross Country team had its only home meet Saturday the 17th.
Ben Cassat- Reina placed 3rd with a time of 18.19 (season record). Mario Rodriguez placed 13th with a time of 19:45 (season record). Christian Soriano placed 26th with a time of 21:24 (season record). Evan Merrihew placed 28th with a time of 21:51 (Personal record). All these boys ran for boys varsity.
Emma Hughs placed 27th with a time of 27:40. Maira Richey placed 29th with a time of 28:34 (personal record). Jenna Messersmith placed 30th with a time of 29:52 (personal record). All these girls ran girls varsity.
The energy at the cross country meet was awesome, everybody was supporting each other. There were donuts for everyone who was helping and I snatched one for myself; they were amazing. After the meet the Alliance team went to Sam and Louise for their "team dinner". Everybody was having a good time and making memories.
Thank you to everybody who came to support the runners, and thank you to the cheerleaders, wrestlers, and annual class for helping out!
The next Cross Country meet for Alliance will be Thursday, September 30th in Scottsbluff at 1:00 p.m. Come support the team!
Highlighted Player
Today I asked Jenna Mesersmith how her time during Cross Country was going for her and her team. Here is her response, "It's going okay, not how I exactly wanted the season to go due to my ankle injury". Two goals for Jenna are to PR (personal record) at every meet she can run in and just simply not to die or give up. The whole team has two goals set in mind; to cheer everyone on and to make it to state. Jenna said that she keeps herself from quitting by thinking of the team, "if I quit during practice or during a meet I let the team down. Everyone on the team was told to think of a montra to help them when they run". Coach Erickson really loved Jenna's quote "The people in front of you, the people behind you, and the people beside you are all hurting it just all comes down to who can handle the pain." Jenna runs because she loves to listen to the team and everybody on the sidelines cheering her on!