First Football Game Of The Season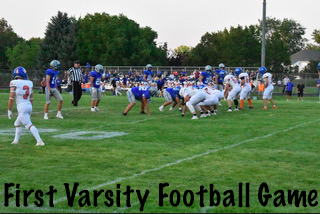 Last Friday night, the Alliance Bulldogs went against Gordon-Rushville, in a crazy, first game of the year. Unfortunately, the Bulldogs ended up coming up short and losing. This was the day the Bulldogs realized they needed to step up to the plate. 
      The game ended with many cheers and screams from both teams. Acknowledging the fact that it's okay to lose sometimes, but no matter the outcome they showed up and gave it their all. Watching the Friday night home football games is a highlight to most, and watching your team from the sidelines is a compliment to the players. Many people come to the games for the thrill while others come for the environment.
          Tristan Timbers had over 100 yards receiving, an exceptional achievement for it being his third start of the season. Running schemes is hard for many, especially the linemen, but it wasn't hard for Carson Bear as he ran the ball well over five yards; averaging six yards, and carrying the first half. Watching the seniors play and make a new path for upcoming and rising football players is a joy to all. 
      Standing back and watching the players help their teammates grow game by game to become better people and better players. Watching the varsity boys play every Friday night is going to be a highlight, to me and the SPUD. With that being said the SPUD can't wait to watch the boy's football team grow and achieve, their goals.