Cheerleading Preview 2021-2022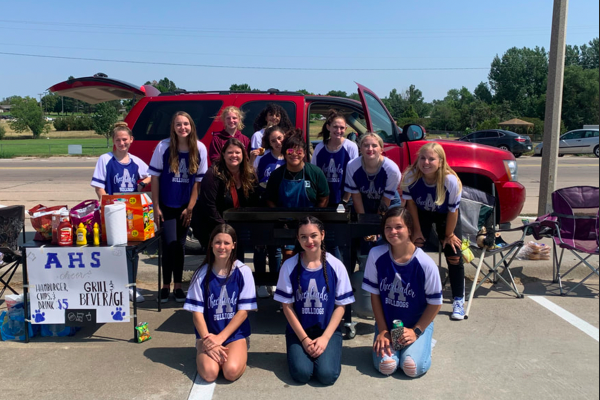 It is almost the middle of the season for the Alliance Cheer team. The cheer team has had a wonderful year so far according to Danielle Swanson. Swanson is the head coach for the cheerleading squad. She graduated and cheered at Scottsbluff High School. Swanson was a four-year cheerleader in high school. So, she asked if she could help coach the Alliance High School team with Mrs. Scadwinkle. Scadwinkle agreed that Swanson could help. Swanson has always had an interest in cheering and she got her inspiration from herself. She has been coaching for twenty-one years. Seventeen of the years she has been coaching with Tara Quick and she has loved her experience with Quick. She added, "Tara is amazing!".
To help prepare for the season, Swanson encourages the girls to participate in summer weight training. She also states, "We also do voluntary practices in the summer, we prepare for the Heritage Parade and then in August, we go full force." They cheer and practice stunting every day to prepare. When interviewing Victoria Washington about preparing for the season, she mentioned, "They make us do mandatory summer weights and running around the track."
Washington's favorite time to cheer is during basketball season. "I love basketball season because everybody just gets so involved and everybody knows how basketball works. We have these fun cheers and specific cheers just for basketball." Washington enjoys everything about the sport. She says, "I love it all. I'm just excited to do it all because I have so many great friends that have helped me through so much." She loves to make up cheer dances and spend time with her teammates, especially at team dinners. Washington loves being able to work with her team.
Swanson is loving her experience with coaching the girls and she loves to see the young ladies grow and mature. She also enjoys seeing the hard work and dedication they bring to the cheer team. She is most excited to finally teach her daughter Reese Swanson. Swanson states, "The team does an outstanding job! Tara and I love these girls! We want the ladies we coach to become strong, independent, caring women." The SPUD is excited to see the cheerleaders bring on encouragement to the other sport teams.