Alliance Boys fall short to Blair in District Basketball Finals
The Alliance Bulldog Boys Basketball competed against the Blair Bears in the District Final game on Saturday, Feb. 27. Alliance hosted the game this year, for the second time in a row. Both teams fought hard the whole game trying to punch their ticket to state.
The starters for Alliance in this game included seniors Chase King, Crayten Cyza, Jaron Matulka and Caeson Clarke, and junior Kellen Muhr. The Bulldogs had a great start and were ahead 22-19 at the half. In the third quarter though, the Bears hit many shots to put them ahead 34-24. The Bulldogs didn't stop fighting but came up short of a trip to Lincoln, losing 43-51.
Head Coach Micheal Baker stated, "It's difficult for young men to look at a positive when you come short of reaching a goal. We started out pretty good but could've scored even more. We were turning the ball over so it would have been nice to have had an even bigger lead than what we had early on then maybe we could've withstood the run they had." He continued saying, "Our guys played hard as always and didn't come apart. It would've been pretty easy come completely unraveled when you're down by 8 or 10 in the third quarter and you just simply can't score."
Many aspects of the Blair team proved to be a struggle. Baker explained, "Their size in the middle- they were huge. They had guys 260-280 pounds so they just planted themselves in the lane so that makes it difficult. Their guards were quick which presented some challenges." Unfortunately for the Bulldogs, many of their shots were not falling. Baker stated, "We needed to make just a couple of jump shots and we couldn't. In the third quarter we couldn't make any jump shots and that just made it get even tighter."
Although there were some struggles, Baker remarked, "I thought our unity was pretty good. We stuck together [and] we were as disciplined as we could be. We kept intense defense; they would have had less than 50 points had we not had the foul at the end. Our defense was good enough to win." He explained that if it wouldn't have been the final game of the season, the team would have bounced back and played well at the next game.
This year, due to Covid-19 restrictions, there were not nearly as many people as there were at the 2020 District Final home game, but the band, cheerleaders, fans and dawg pound were loud and proud cheering throughout the game. Baker remarked, "You sure feel the energy of the crowd and so that's a nice thing to have. You can build off of that. The crowd couldn't make the shots for us but they sure helped us have energy early on."
Baker explained that this team did things that have not been accomplished in Alliance for many years saying, "We won the Western Conference Tournament. Winning 19 games is really hard to do in a season." He described how close-knit the team was this year and said, "They provided leadership for the younger guys. They were willing to teach our sophomores some things in practice so their work ethic is good." Baker continued saying, "They're going to be good guys, [and] good leaders down the road. There are some great memories and this disappointment, down the road, will eventually fade a little bit."
Although the season didn't end in the place the Bulldogs wanted it to, they still had a phenomenal season. Shoutout to senior players Crayten Cyza, Jaron Matulka, Chase King, Caeson Clarke, Chase Boyer, Jaxon Bair and Brantz Halouska, and senior managers Caisey Pfieffer and Karly Wangler. Your commitment to this stand-out team did not go unnoticed!
About the Contributor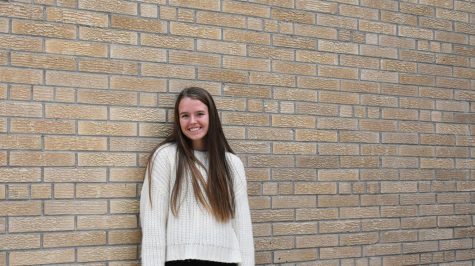 Shelbee Burke, Web Editor
Hi! I'm Shelbee Burke, a junior at AHS. This is my second year writing for the SPUD. I am the 16 year old daughter of Tom and Gail Burke. I am very active...