Subdistrict Champions
Last week, the Alliance Boy's Basketball team competed in B-8 Subdistricts. The teams competing in this Subdistrict included Alliance, Gering, Scottsbluff and Sidney.
On Monday, February 22, the Alliance Boy's Basketball team competed against and defeated the Gering Bulldogs with a score of 52-43. The starters for this game were seniors Jaron Matulka, Chase King, Crayten Cyza and Caeson Clarke, along with junior Kellen Muhr.
Alliance head coach Micheal Baker stated, "We had a great start and a great finish. We had a nice lead to begin with, and Gering battled back and our guys lept their poise when it was tied going into the fourth quarter." He continued saying, "[Alliance] made several key baskets and we were 14 out of 15 on free throws in the fourth quarter so that was really nice to see them make pressure free throws."
Although the Bulldogs played well in the first and fourth quarter, they struggled in the middle two quarters. Baker remarked, "Gering played Caeson [Clarke] really physically and we missed some shots that we normally make. We missed a few layups and Gering made some nice plays so just the normal ups and downs of the game."
Clarke led in scoring with 15 points, while King added 14. Cyza scored 11 and Matulka contributed 10. Clarke also led in rebounds with 14 having the only double-double of the night for the Alliance Bulldogs.
Baker added, "We didn't give Gering many offensive rebounds. We rebounded almost every missed shot that they had. We didn't turn the ball over. We had a few [turnovers] but not enough that it made a huge difference."
Although there were many positive moments in this game, Baker explained, "I just think the best moment was when we had a lead and our guys were able to pass the ball without turning it over, and forcing Gering to foul us. We executed there in the fourth quarter."
On the first night of the tournament after Alliance's success, there was an upset in the subdistrict. The Sidney Raiders defeated the Scottsbluff Bearcats when just two weeks before, the Bearcats beat the Raiders by 35 points. Baker remarked, "Sidney has talent and they made it difficult for Scottsbluff to get in a rhythm offensively. They made some shots and forced Scottsbluff to do some uncharacteristic things."
On Tuesday, February 23, Alliance and Sidney competed in the B-8 Subdistrict Final. Both teams fought hard for the chance to be able to take the B-8 Subdistrict title. The starters for this game were the same as they were for the previous game with Matulka, King, Cyza, Clarke and Muhr. In the end, the Bulldogs would defeat the Raiders 49-44.
Clarke led in scoring with 23 points and senior Jaden Kelley, Matulka, and King each scored six points. Clarke also led the boards with 18. King had four assists while Cyza contributed three.
When asked what one of the best moments of the game was, Baker explained, "There was a sequence where we had a play where Caeson got a basket and was fouled. He missed the free throw and Chase King got an offensive rebound and threw it out to Caeson and we got Jaron for a backdoor layup." He added, "We got four points on that trip down the court and increased our lead. It was a big play to get four points."
Baker stated, "There really wasn't a big bad sequence. Both teams played really good defense the whole game and both teams struggled offensively." He continued saying, "Those are kind of what you expect in February when you play a team for the fourth time, the guys kind of know each other and they know what to expect, they know what the other team is going to do and it just makes it a grind to make baskets."
This is the fourth year in a row the Alliance Boys Basketball team will compete in a District Final game. Baker explained that the team has watched numerous films to prepare for the new and unfamiliar team.
The Bulldogs record improved to 19-5 and they will compete on Saturday against the Blair Bears in District Finals at 1:00 pm. Best of luck to the boys as they compete to be three-peat state qualifiers!
About the Contributor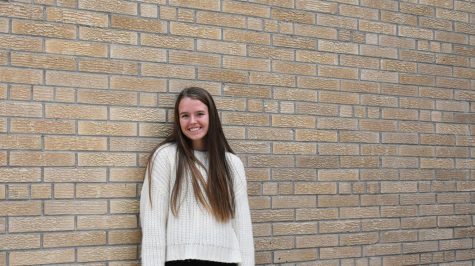 Shelbee Burke, Web Editor
Hi! I'm Shelbee Burke, a junior at AHS. This is my second year writing for the SPUD. I am the 16 year old daughter of Tom and Gail Burke. I am very active...