Girls Basketball Preview
Fall sports seasons have come to an end, meaning the beginning of winter sports. The Alliance Girls Basketball team had a rough season last year finishing with an 0-23 record, but plan to work hard to compete and hopefully find success this year.
There are already some positives going into the 2020-2021 season. Head Coach Troy Unzicker stated, "We have a lot of returning experience with 15 letterman coming back, and a couple of starters hopefully. We have some more depth than we've had in the past." Senior Olivia Knapp, a post who has been playing basketball for seven plus years, explained that this year the team chemistry is a lot better than in years past.
Some challenges are anticipated to be faced this year though. Assistant Coach Heidi Manion said, "Shooting and scoring will be a problem for us. We are going to have to rely on our defense and get better defensively to limit teams so we don't have to score as much." Senior guard Keeley Mazanec, who has been playing basketball since she was five, stated that "We had a lot of seniors that started last year, so coming off of that we'll have a lot of new ones so we will have to adapt to that." Some other concerns expressed by Knapp include building a team that actually wants to play after going defeated, and not having athletes as tall as there used to be on the team.
There are some goals that the team currently have. Unzicker explained, "Every game we want to continue to get better. That's always our goal and then the wins will come. We struggled through a tough season last year between injuries, illnesses and people missing games for a multitude of reasons." He continued saying, "We have a lot of youth and there are only three seniors on the team so the next two years I expect to see vast improvement."
Manion stated, "We need to look to get better everytime we step on the floor, whether it be practice or games. We have to earn to compete every possession and not just to be satisfied to be on the floor but actually compete every possession, whether it is with teammates or opponents."
This season will of course be different because of the pandemic, which is a problem all teams are facing. Coaches and players who are not currently playing are required to be wearing a mask. Unzicker explained that there will probably be some crowd restrictions. Manion remarked, "It's going to be important to be flexible. Kids are going to have to play different amounts and different positions. You can have someone one day and the next day they could be gone."
Despite the outcome of last year's season, the girls basketball team is ready to get back to work. Knapp and Mazanec both said they are excited for the season to start and that they think it will be a fun year. Manion stated, "[I'm] excited to get back in the gym and work with kids again. We'll hopefully teach some life lessons and get through a season like no other that anyone has seen."
The first game of the season will be December third and is the Western Conference Tournament. A bracket for this tournament has not yet been announced. The team currently has 22 games scheduled.
About the Contributor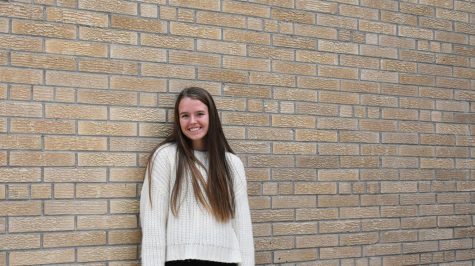 Shelbee Burke, Web Editor
Hi! I'm Shelbee Burke, a junior at AHS. This is my second year writing for the SPUD. I am the 16 year old daughter of Tom and Gail Burke. I am very active...