Spartan's Recap
The First National Bank's Spartan's baseball is something many people look forward to each summer, but with Covid crashing many summer plans, it was uncertain at first whether there would be a season. Although practice started later in the year than usual, they were able to have a season, but no postseason. This meant there was no chance to participate in Districts or a State tournament.
Head Coach Carlos Palamo stated that it was a challenge this year keeping the players motivated knowing there would be no postseason. He said, "In years past we've always had an end goal: to make a run at Districts. But this year with no postseason it was difficult." Senior outfielder, Chase Boyer, who has been playing Legion baseball for two years agreed saying "The most challenging part of this year definitely had to be keeping our enthusiasm up every single game even though there was no state at the end of the season."
Palamo explained, "I think the best part of the season was being able to play, especially knowing we weren't going to have a postseason. We just had to look at the little things as blessings. Just being able to take the field with this group one more time was an honor." Boyer stated that for him, "The best part of this year was the brotherhood I got to experience with everyone." Senior Catcher AJ Escamilla, who has been playing baseball since he was five years old, remarked, "The best part this year for me was my family from Texas being able to support me throughout the season. It was awesome motivation for me."
While each player had their own opinion on what the most memorable game was, Boyer stated that for him it was beating Buckley to win the Clair Conley Tournament. Escamilla said, "The most memorable game for me was the panhandle conference championship. We had three games that day and we had to play Gering twice. Even though we lost by one, it took the team a lot of heart to be able to go back out there for a 3rd game of the day and still be able to put Gering on their toes. The crowd and the energy was absolutely amazing."
When asked who the biggest rival was this year, Palamo stated, "Gering. We played them 5 times. We beat them three and they beat us twice. Since I've taken over the Spartan's we are 10-3 against them." This is Palamo's third year as coach for the Spartan's.
Many athletes played key roles on the team this season. Palamo stated, "Joel Baker is a kid I'm going to miss dearly. He led both on and off the field. He's a very competitive kid, a guy you wish you had nine of. He can come back next year possibly if he wants but we'll wait for the spring for him to make a decision." He went on to say, "Chase King is another one who just always does the right thing and who I consider a true competitor as well. Collin Schrawyer, JJ Garza and Trevor Dubray are all going to play in college at the next level so they all consistently led with their actions as well as their words."
Team chemistry is a big part of what makes any team successful. Palamo noted, "This is a pretty tight knit group. They played together for so long and I think that is what has allowed us to be so successful the past few years was this group being so close." He continued saying, "They were very strong. They have shown and instilled the mind set of where we want to be and how we go about our day for these younger kids, which will be huge for the future. The past few years is definitely the strongest team chemistry I've ever been a part of." Escamilla explained, "We had a lot of new guys to learn how we do things and it might've taken a while but the leaders of the group managed to bring everyone on the same page. We all looked out for each other and that's what family does for one another." "The team chemistry this year was amazing even without state. We were constantly picking each other up and messing around with one another as usual," remarked Boyer.
This year, a big factor of the season was the current global pandemic, COVID-19. "I don't think necessarily we were impacted by Covid as a team. We were fortunate enough to play so many games and we were consistent following all the guidelines wherever we played. We were most affected by our state making the decision not to have a postseason. It was very difficult for this group to handle because of the run we made in the previous year," Palamo said. Escamilla went on to say, "Covid affected us by being able to practice only a few weeks before the first game. We normally have a month and a half of on-field practices before the first game."
The Spartan's final record was 31-16. The seniors this year were Joel Baker, JJ Garza, Collin Shrawyer, Trevor Dubray, Kirk Sanders and EJ Gomez. Overall the Spartan's had a great season and the SPUD congratulates them on all they have accomplished!
About the Contributor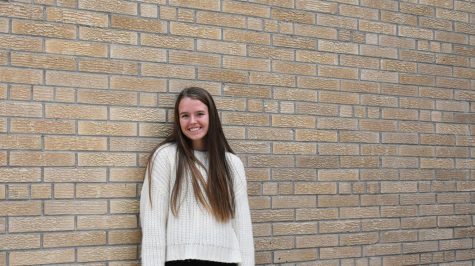 Shelbee Burke, Web Editor
Hi! I'm Shelbee Burke, a junior at AHS. This is my second year writing for the SPUD. I am the 16 year old daughter of Tom and Gail Burke. I am very active...