2020 State Basketball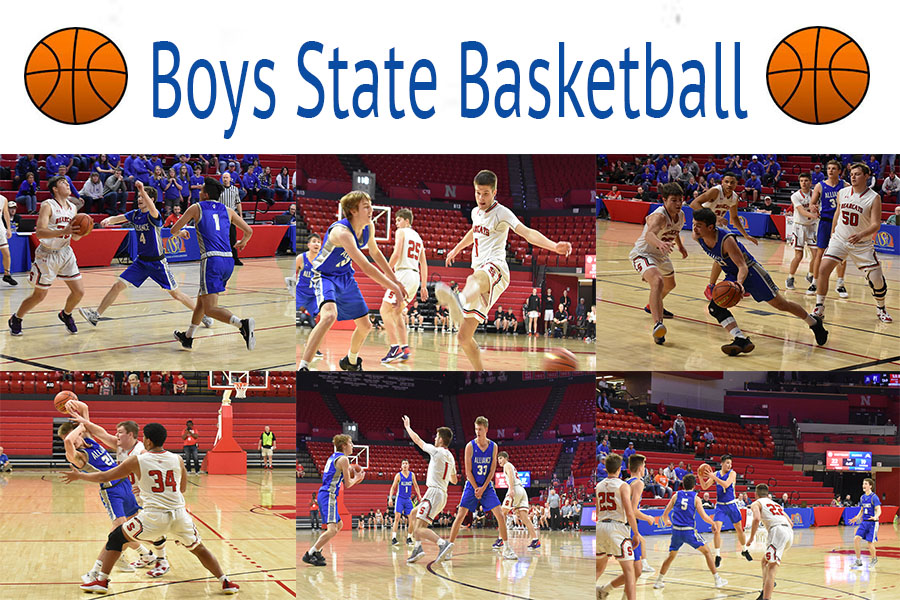 On Wednesday, March 11, the Alliance boys basketball team set off for Lincoln around 8:00 a.m. Later that day, an announcement was made that would change a large aspect of the tournament. The NSAA announced that attendance for the state games would be limited to the varsity players, coaches, team support personnel, school administration and immediate families due to the Coronavirus pandemic. There were an estimated 1200 fans attending the district basketball game, but only about 150 made the cut to be able to attend the state game against the Scottsbluff Bearcats.
The starting lineup for the Bulldogs remained the same as it was for the district game with senior Joel Baker at point guard, senior Trevor Dubray as a guard, senior Kaden Kindred, and junior Caeson Clarke as forwards and senior Bradyn Palmer as the center.
The Bulldogs came out strong having the lead over the Bearcats at the end of the first quarter. Going into halftime, the Bulldogs were down 15-17. Alliance fought hard but fell short with the final score being 38-53.
Dubray led in scoring with 15 points while Baker was able to add 9. Clarke with 6, Palmer with 5 and Collin Schrawyer with 3 also contributed to scoring in this game. Konnor Farritor led for the night in rebounding with 7 boards and Kindred led in assists with 4. Clarke had 4 rebounds as well as 3 assists.
Coach Michael Baker remarked, "[In the second half] both teams settled in a little bit better. They took advantage of some things in the middle that they had done in some of the other games and we were unable to control. They're so big and they're so physical that we're really unable to run the offense that we run every other game all year long, so we just weren't ourselves." He continued stating, "You hate to play like that at state and in this stage but their pressure forced us to do some things we usually don't do."
Reflecting on the final game of the season, Coach Baker said, "[I] Just wish we could've represented ourselves a little bit better, we were just out of sorts all night. In the other games, we would get 15 points in three of the four quarters and have one bad quarter but we just couldn't get in an offensive rhythm tonight." Trevor Dubray noted, "We stuck together for a long time. We had some ups and downs throughout the game. Not all of our shots were falling down, we were taking bad shots and we made up for it. A couple of things that hurt us real bad was Joel and Palmer getting into foul trouble early into the game and that really set us off."
This is the second year in a row that the Boy's Basketball team was able to punch their ticket to state. Last year the team played an unfamiliar team they had never competed against. But this year, the Bulldog's faced a team they had seen previously this year during regular-season games and in the Subdistrict Final game, which Scottsbluff had won.
Coach Baker stated, "Neither team can really call a set play because we know. That's another thing, normally we can go to a set play to get something but it's hard to do that because they know exactly what you're going to do there." Coach Baker said this year was, "totally different because we're playing a familiar opponent so the scouting was different. This is the first time all year we've had a lead like that on Scottsbluff, early in the first quarter even half time. At half time we felt as if we could just clean some things up. We could make a run but [Scottsbluff] just kind of took care of some things there early in the third quarter."
Joel Baker explained, "It's tough when you play a team four times, it's hard to play offense especially because they know us so well and we know them so well. It was a grind and it was definitely weird without fans but I'm thankful I got to play my last game."
In the first half, the leading scorers from both teams, Joel Baker for the Bulldogs and Jasiya DeOllos for the Bearcats, were almost completely shut out and had limited shots. Coach Baker remarked, "Joel and Jasiya are, people didn't see it tonight, as good as anybody, I'm biased of course. I have a lot of respect for Jasyia over the years." He went on to say, "That speaks to our level of defense and the respect that the opponent has for the other team's best player to hound them like that."
Joel Baker stated, "I want to say thank you to all the fans that supported me since I was a freshman"
The atmosphere at the state tournament was much different than any games at this level before. Coach Baker remarked, "It's so weird having no band, no cheerleaders, no fans. Last year this place was pandemonium. The intensity of the players was there but just having the pandemonium that you usually associate with a state tournament."
Dubray explained, "You expect coming here to the Devaney having even more people than at your home gym but you come here and all you have is your parents cheering you on. It was a completely different setting."
Baker described it as night and day. He said, "We thought our district final game would prepare us for this but that was like nothing I've ever had before. It felt like a summer league type of game."
This was an extremely successful season for the Alliance boy's basketball team. The team ended the season where they hoped to, just a little sooner than they wanted to. Joel Baker stated, "We've been playing together, most of us, for at least 10 years. We really love each other and the comradery with us is the best I've ever had with a team."
Looking back on the season as a whole, Dubray explained, "We came and kept on connecting to each other, coming closer and closer and it made us a stronger team than we've ever been. I think the stronger relationships that we had helped us throughout the season."
Coach Baker remarked, "I don't want this to take away from the season we've had. That's the message there- is that our guys had an outstanding year, 20 wins doesn't happen very often; coming down here back to back doesn't happen for us. It hurts right now; a lot of crying in [the locker room]. It just shows how much they care."
Although fans were not able to attend the game in Lincoln, many were streaming the game, cheering on the Bulldogs from home. The Alliance Boys Basketball team was not able to continue to round two of the 2020 State Tournament, but they were able to find much success in their season as a whole.
About the Contributor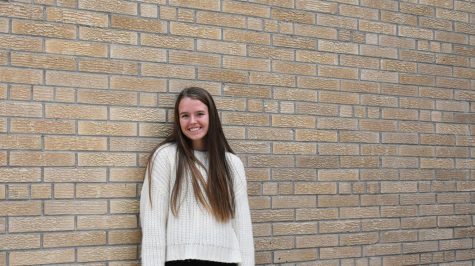 Shelbee Burke, Web Editor
Hi! I'm Shelbee Burke, a junior at AHS. This is my second year writing for the SPUD. I am the 16 year old daughter of Tom and Gail Burke. I am very active...