B-6 District Track & Field Meet
Hang on for a minute...we're trying to find some more stories you might like.
On Thursday, May 9, the Alliance tracksters traveled to Ogallala to compete at B-6 districts for track. There were ten schools: Alliance, Chadron, Cozad, Gering, Gothenburg, Mitchell, McCook, Ogallala, Scottsbluff, and Sidney.
In the 400, four Alliance tracksters qualified for state. Mason Hiemstra, McClain Adamson, Eric Pollack, and Payton Weber. Mason ran a 51.4 placing 1st, McClain ran a 51.8 placing 3rd, Eric ran a 52.5 placing 4th, and Payton ran a 1:01 placing 5th. Mason and McClain ran qualifying times, while Eric and Payton got in on wild-cards. The boys 4×4 also qualified for state. They ran a 3:29, placing 2nd. The relay consists of Eric Pollack, McClain Adamson, Devin Hughes, and Mason Hiemstra. The alternate is Reece Jensen. Alongside the qualifiers, other tracksters competed as well. The boys placed 8th with 30 points, and the girls placed 10th with 14 points.
Devin Hughes, the third leg of the 4×4 says, "This year, the 4×4 consisted of three seniors and one sophomore. I was that one sophomore. At first, it was scary because I felt like if we messed up it'd be on me because I was the younger one, and I just wanted to impress them. But as the season went on, I got more comfortable around them. They're super cool and treat me like a little brother. Our goal this year was to make state, and we accomplished that. Making state was very exciting, overwhelming, and nerve-wracking. We were very confident that we would, but it was still something that we would have to work for. We are hoping to get first, but we will of course just do our best."
State track and field championships will be held on May 17-18 in Omaha at Burke stadium. The Spud wishes the qualifiers and coaches the best of luck!
About the Contributors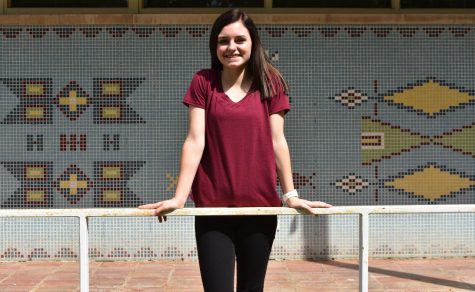 Nikki Haller, Staff Writer
Hi everybody! I'm Nikki Haller. I am a sophomore at AHS and this is my first year writing for the SPUD. I am the 15 year old daughter of Tonya Haller and...