State Volleyball 2018
Hang on for a minute...we're trying to find some more stories you might like.
Nerves and determination were high on Thursday, November 7 as the Alliance High School volleyball team competed in the State Volleyball tournament for the first time in eighteen years. Each girl on the team wanted to come out victorious. The only thing standing in their way; The Waverly High School Vikings.
Waverly may have been the first to serve, but Alliance was the first to score, scoring two points before Waverly could counter. While the girls started off with a passion, the nerves began to set in and halfway through the first set the score was Waverly twelve, Alliance four. The girls continued to persevere, but lost the first set 20-25.
Fighting hard, the Bulldogs pushed their way through the second set, tying up the score with Wavelry at 19-19. The girls had finally gotten their momentum and they used it, bringing the second set to match point with Waverly two points behind the Bulldogs. However, the Vikings were able to tie the score and win the second set 26-24.
Unfortunately, the third set met the same fate as the second. The Bulldogs were up match point, but could not get enough momentum to keep the Vikings away. The Vikings scored four consecutive points, winning the third set 26-24
Full of emotion, senior Emerson Cyza stated, "We ended where we wanted to end, just not how."
Despite losing the match against Waverly, the Bulldogs still had a good game. Jordan Hopp had nine kills. Senior Emerson Cyza had nineteen kills, ten digs, two ace serves, and one solo block. Junior Khloe Felker had eleven digs and one ace serve. Senior Blythe Boness had two kills and two solo blocks. Senior Shelbi Mills had one kill, ten digs, and nineteen set assists. Senior Ryley Rolls had eight kills, one solo block and twelve digs.
"(I'm) Extremely proud of the girls and the year that they have had. I know it didn't end the way they wanted it to, but they did fight, they fought hard," stated Coach Kaiser.
While the season may not have ended the way the team wanted, they still had an impressive record, winning 29 of their 35 total games. The future of the Alliance Bulldog volleyball team looks promising and I wish them all the best of luck next season.
About the Contributors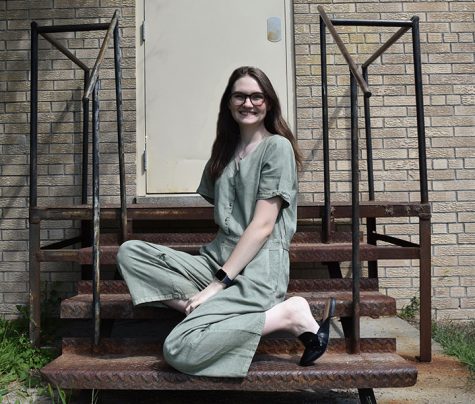 Aubrie Lawrence, Editor-in-Chief
Hi! I'm Aubrie Lawrence. This is my third year writing for the SPUD. I am a Senior here at AHS, and I am the Editor-in-Chief for the SPUD. I am the oldest...