Escola verda
Hang on for a minute...we're trying to find some more stories you might like.
Do you think you could avoid the use of plastics or aluminum, but you don't do it because it is harder and takes more time than other options? Do you think it would be easier doing it if you learned how to do it when you were a kid?

In Catalonia, there is a school network called "escola verda," this means "green school". The goal of this network is to teach their students how to use sustainable resources and reduce the use of plastics and other products that damage the environment. A lot of these schools have a vegetable garden and the kids learn how to work in it. Students learn what type of vegetables can be planted for the climate of their city, and what they should eat for a healthy diet. This helps the kids to understand the importance of recycling, reusing, and reducing.
All this learning starts in the school, but it also continues at home by recycling all the trash you generate. In the city, there are different kinds of trash cans: food, paper, plastic, and another trash can for all the other things. Also, you can't throw away big items like a couch or shelves, you have to go to a specific place out of town to throw those items away.
I think all this learning is really important. If every person would help do all of these things, it would create a group of people helping save the earth. If everybody thinks that another person will do it, we are not going to save our planet from the pollution and contamination. So, I believe that it is easier to learn when you are a kid in order to help apply it in your daily life.

About the Contributors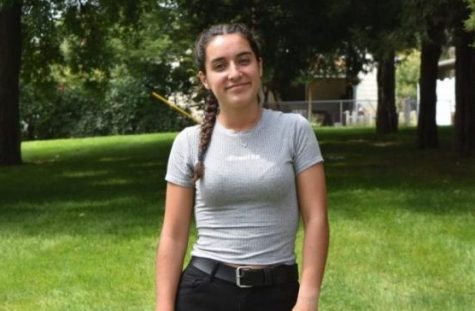 Violeta Roca, staff writer
Heyy! My name is Violeta, I am an exchange student from Spain. My host family is Lisa and Chance Splattstoesser. I like being here and have a new experience...