Dalton Holst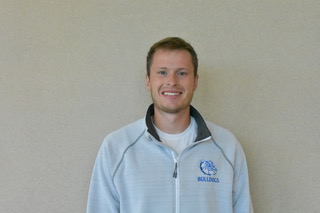 Dalton Holst is a first-year Alliance High School history teacher. He started teaching because he loved the excitement kids felt and loved the interaction with them. Holst went to college in Chadron where he didn't at first major in education but that later changed. He wanted to be involved in the school setting and to coach as well. He doesn't consider teaching hard but he loves what he does. He does believe some days are harder than others.
         Many people have asked why has he chose Alliance High School his reason was, "It's a huge opportunity to do what I love!"   Holst believes that if he wasn't teaching he would own a restaurant. He loves to cook and can whip up any quick and simple meals that he can. Inside the classroom, he strives to achieve that students will want to do great, and see they can achieve their full potential. His favorite motto is,  "You should never be rewarded for something you are expected to do". He is a firm believer in education and means well.
            Dalton Holst is also a helping  coach for JV football, he loves helping out and being a team player and a role model for many. Coaching has always been a big part of his life, coming to Alliance High School, gave him the right opportunity that he needed, to achieve his goals. Outside of the classroom and off the football field, he finds many great hobbies enjoyable. Whether that's shredding the guitar on Guitar Hero or simply reading a good book. 
       What if you can't find Holst? Well, you might want to check a beach because he enjoys long walks on the beach. Without further adieu, the SPUD is proud to welcome Dalton Holst to AHS!