Chris Geary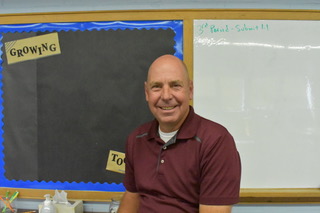 Chris Geary is a first-year Alliance High School Algebra teacher. He started teaching math because he always loved math and didn't know what else to do. Geary went to college at Chadron. Although, this is Geary's 31 years of teaching he still likes to adventure outside the box and try new things. Teaching wasn't always his first choice but as he grew older he realized that he had a strong passion for math, despite the fact he wanted to be a pilot for the military. 
            Outside of the classroom, you can find him on the courts officiating or on the field being a referee with many of his co-workers and friends. In the classroom, he stands to be a role model and wants every student to realize they CAN do it and they can do great things and be successful at what they do. If he wasn't teaching today and wasn't as far into his career as he is now he would probably be in construction, building the next generation of houses. 
                 He believes that some days are harder than others but he's always trying to find ways to improve what he's doing, whether that's critiquing himself, or realizing he just needs a break. He believes that as long as a student understands and reaches out he's done something right, He once said "I tell my students often how happy they make me when their "light bulb" goes off.  Those moments make it all worth it."
        Even though Geary is a strong believer in the education inside his classroom, he loves the outdoors and loves spending time with the ones he loves. Whether it be traveling, sightseeing, or going to concerts you can always find him doing something. The SPUD is proud to welcome Chris Geary to AHS!