Winnie The Pooh Day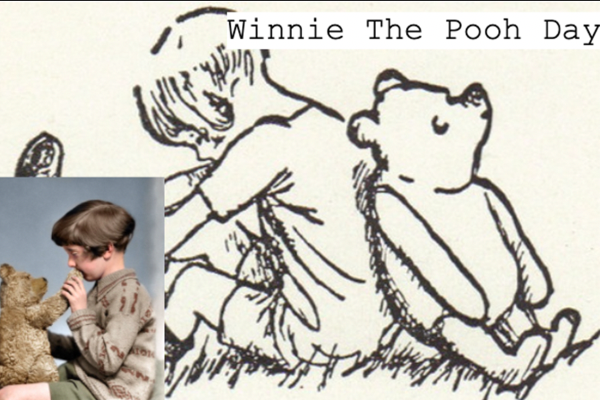 National Winnie the Pooh Day takes place on January 18 every year. This day celebrates the creation of the stories which originally started in 1926. The author A.A. Milne was born on January 18, which explains why Winnie the Pooh day is celebrated on Milne's birthday. The illustrator of the stories was E. H. Shepard.
Winnie the Pooh is very popular and many people loved the stories. In the first-ever story written by Milne, Winnie-The-Pooh was actually an unnamed bear. The book series "When we were very young", was about the bear who grows chubby due to not exercising. The first book with Winnie-The-Pooh colored and named was published in 1926. As soon as the story was published, it became a hit. Many children loved the book and that's when Milne continued to publish more stories.
Milne named Winnie-the-Pooh bear after a real-life black bear named Winnipeg. Winnipeg lived at London Zoo during World War One. The character Christopher Robin's name was also named and based on Milne's own son. Christopher Robin was an English boy who stars playing with the characters in the famous Winnie-the-Pooh stories. Milne gave his son, Christopher, a stuffed bear on his first birthday. The bear was originally called Edward, but his son eventually renamed the stuffed bear Winnie after the black bear at the London Zoo. Later, Christopher Robin created voices and personalities for his stuffed animals. This inspired his father to base his stories on his son and his stuffed bear.
In the show, Winnie and the characters are portrayed as stuffed animals. The stuffed animals included; Rabbit, Tigger, Gopher, Eeyore, Roo, Piglet, and Kanga. Each character shown in the stories was diagnosed with different mental disorders. Pooh has ADD, Tigger has ADHD, Rabbit has OCD, Roo has autism, Eeyore has depression and Christopher Robin has schizophrenia (As stated on website www.dukechronicle.com by Courtney Dantzler). A.A. Milne presented the show to represent how these disorders can affect daily life.