Robert E. Lee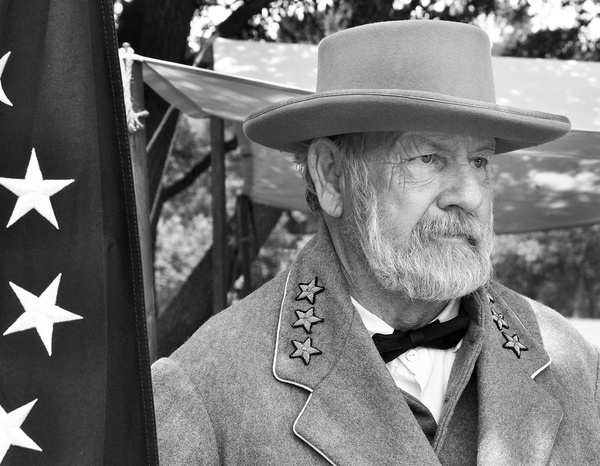 Robert E. Lee's full name is Robert Eduardo Lee "He was just under six feet tall, with black hair, and brown eyes," (Encyclopaedia Britannica). Born on January 19, 1807 in Stratford Hall, Westmoreland County, Virginia. He was the "son of Henry ('Light-horse harry') Lee and Anna Hill carter Lee." Lee was a U.S. Army Officer from 1829- 1861, a Confederate General from 1861- 1865, and a college president from 1865- 1870.  He was pronounced dead on October 12, 1870 in Lexington, Virginia (Encyclopaedia Britannica).
Lee's father left the family and moved to the West Indies when Lee was six. In 1825, Robert entered the United States Academy. He graduated second in class of 1829. "Marble Model" was his nickname and it reflected jealousy as well as praise. On July 1, 1829, his high-class ranking qualified him to enter the Engineer Corps as second lieutenant. The promotions to the first lieutenant on September 21, 1836 and to the captain on July 7, 1838, punctuated his peacetime engineering service (Encyclopaedia Britannica).
In June of 1831, Lee married Mary Anna Randolph Custis. They were married for 39 years and had four daughters and three sons. Later, on May 13, 1846, the United States declared war on Mexico. During a campaign that ended with the capture of Mexico City, Robert served on the staff of Winfield Scott between March and September of 1847. He won brevet promotions to major, lieutenant colonel, and colonel by impressing superiors throughout these operations (Encyclopaedia Britannica).
Robert held the superintendency of the United States Military Academy from 1852- 1855. Later, he served as lieutenant colonel of the 2nd Cavalry in Texas, as stresses related to the institution of slavery was mounted in the 1850s. On October 17, Lee was summoned to the War Department. He then proceeded to Harpers Ferry with a detachment of Marines. The next morning orchestrated the capture of Brown, which he described as an "enemy" of the country (Encyclopaedia Britannica)
Lee held views about slavery and abolitionists mostly for those of his class and section. He wrote, "Slavery as institution is a moral and political evil in any country. It is useless to expatiate on its disadvantages" (Encyclopaedia Britannica). He also believed that slavery was a greater evil to the whites than to the blacks. "While my feelings are strongly interested in behalf of the latter, my sympathies are more strong for the former," he wrote. He believed that the fate of enslaved millions should be left in God's hands. He stated, "Their emancipation will sooner result from the mild and melting influence of Christianity, than the storms and tempests of Flery Controversy" (Encyclopaedia Britannica).
Robert owned 10-15 enslaved people during his time alive. As an executor of Custis's will, he was charged with freeing and within a five-year period, nearly 200 enslaved people. Other Custis properties in the late 1850s, imposed harder work for the enslaved people who ran away and others who were to be liberated by Custis's will. Lee would then deny the accusations, but he condoned whipping for infractions of his rules (Encyclopaedia Britannica).
In 1868, he told his youngest son, "You will never prosper with the blacks and it is abhorrent to a reflecting mind to be supporting and cherishing those who are plotting and working for your injury, and all of whose sympathies and associations are antagonistic to yours." (Encyclopaedia Britannica) Seven southern states had seeded and established the Confederate States of America by the time of Robert's promotion to colonel for the first Calvary on March 16, 1861. "On April 12, the Confederate artillery bombarded Fort Sumter. Three days after, President Abraham Lincoln called for 75,000 volunteers to suppress the rebellion" (Encyclopaedia Britannica). Lee was offered command of the United States Army being raised to put down the rebellion the day after Virginia seceded on April 18 (Encyclopaedia Britannica).
Encyclopaedia Britannica, inc. (n.d.). Douglas Southfall Freeman. Encyclopaedia Britannica. Retrieved January 20, 2022, from https:ww.britannica.com/biography/Douglas-Southfall-Freeman