Buckle Up For Finals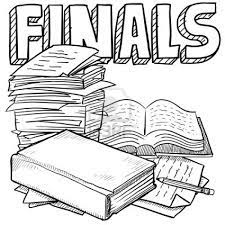 As December keeps coming around the corner, many students are counting down the days until Christmas break. December is the time for, love, joy, family, and friends. But here at Alliance High School December has a stronger meaning to the students, it's the month of the semester final. As teachers plan their finals out students are preparing to take a test or complete a project on what they have learned from the past couple of months. Whether it's English, History, Science, and Math. Each final has a different intake for everybody. Whether you are a math whizz or the next Albert Einstein, you better study!
     Each final is worth the majority of your grade usually ranging around 100-200 points (depending on your teacher). Why is studying for your final important? I have asked the junior class their personal opinion on the importance of the finals. Many have stated, "The final is important but the way teachers achieve the final can be challenging for most."  76% of the juniors have stated that they don't think finals are important, they have stated "If the final is one major test what is the point of multiple tests after a chapter/lesson?" The finals start to begin the week before Christmas break leaving a couple of days to complete finals before you walk out the door for Christmas.
       As the finals get put into the grade book it will decide whether you pass or fail the class. Waiting for the final grades to get put in can be a long wait and many people start to get impatient. It's never too late to start studying for your final, better to be safe than to be sorry. The AHS Spud wishes everyone good luck as finals come closer and the semester reaches the finish line!