Are Indoor Practices As Beneficial?
Although spring seems to be approaching so slowly, tracksters need to start practicing for their upcoming meets as soon as they can. With the cold weather lately, doing that is pretty hard; however luckily, Coach Lanik fixed that problem by beginning to hold indoor practices. A lot of people have opinions on this option though. Some tracksters and coaches think that they are just as beneficial as being outside, but others don't think it's quite as beneficial.
Holding indoor practices can be beneficial because it's a good time to teach new concepts and work on perfecting older skills while in a comfortable environment. They can practice primary skills such as running form, blocks, and specialized techniques. Indoor practices also allow athletes to practice in a space that is free from the limitations and hazards of the weather. These practices also allow athletes to focus on perfecting their skill, rather than acclimating to their environment.
Coach Bloyd says, "For the throwers, we can do a lot of footwork drills and fundamentals that will translate when we go outside. We can throw our indoor shot-puts but with discus we have to just focus on drills. It can be very beneficial for us because the athletes will be less focused on how far they are throwing. They can just lock in on doing the movements correctly."
However, others aren't as positive about the practices, especially throwers. Indoor practices might not be as beneficial to athletes because they won't experience what it's like to compete in those weather conditions, and won't be able to prepare for them. At many meets tracksters run into conditions such as sleet, rain, wind, low temperatures, and many more negative effects of nature. It also might not be very beneficial because fielding events don't get to practice as much for their event. They can only work on their form. Fielding events such as discus can't really work on discus.
Freshman thrower, Shelbee Burke says, "It's different than being outside. You can't see how far you're throwing because you can't throw discuss inside, you can only work on form. I think it's beneficial for the runners, but with fielding events it's hard for them to be able to actually practice their event. They can work on the basics but they can't actually practice their event."
There are clearly many pros and cons to indoor track. Coach Lanik however has a much more neutral look on the subject though. He says, "You make the best of the situation you're put in. It's not ideal, but we do what we have to to get kids ready to compete." The situation may not be ideal, but the tracksters are sure to make the most out of it.
About the Contributor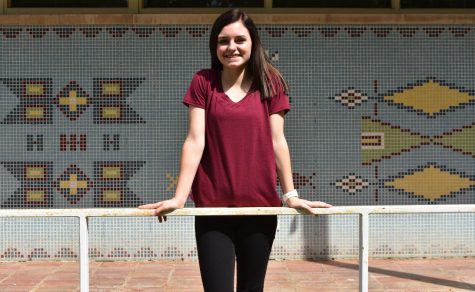 Nikki Haller, Staff Writer
Hi everybody! I'm Nikki Haller. I am a sophomore at AHS and this is my first year writing for the SPUD. I am the 15 year old daughter of Tonya Haller and...