Life Behind the Curtain
Hang on for a minute...we're trying to find some more stories you might like.
The comical tragedy, Hamlette by Allison Williams, was presented by the AHS drama department the last week of November. The One Act cast performed two public, one matinee, and one private performance, as well as a competition performance for District One Act in Sidney. Despite their stellar production, it did not show off all their hard work, late nights, and extra time they put in to perfect their show. No one really knows what goes on behind the curtain of a play.
One Act started in September as auditions were the second week of the month and the first rehearsal was the last week of the month. The cast and crew rehearsed three times a week, for nine weeks. Rehearsals include: warm-ups, line memorization, facial and line drills, costume fittings, setting light cues, stage blocking, setting stage cues, entrances and exits, and running the show. The cast and crew were at rehearsals late into the night running and perfecting their show.
Performance nights were stressful and fast paced. The cast and crew were continuously preparing for their debuts as every night consisted of doing costumes, hair, makeup, prop placement, and warm ups before taking their places. During warm ups, the cast did vocal and face stretches, breathing techniques, and enunciation routines. Once the nerves were turned into excitement, they all took their places, for the show was about to begin.
For the first time, the One Act team had the opportunity to perform a matinee for the AHS student body on Wednesday, November 28. Since this was the first matinee, and the second performance of the year, most of the cast and crew had butterflies. This performance helped to perfect the show as the student body laughed at the appropriate times and encouraged the energy of the play. Although the entire cast and crew were anxious for this performance, it got rid of all their gitters and allowed them to perform their absolute best for their next performances.
The One Act team then traveled to Sidney for their B-6 District competition. They competed against seven other schools. With amazing feedback from the judges and competing against tough competition, Alliance took sixth place at the award ceremony. Alliance received three superior ratings and cast members Brielle Alwin, Tristan Blesich, Chloe Blumanthal, and Stephen Reid all received an Outstanding Performance award.
Every year, an additional performance is done as Westco has their annual dinner and meeting in the PAC. Westco provides a very generous donation that helps fund the One Act cast's costumes, competition fees, travel, props, and setting costs. In return, the cast and crew help serve the meal to the Westco employees. After their meeting, the cast and crew perform their show.
For the seniors, this play was extra special, as it was their last One Act. The seniors in the One Act play were Trena Ackerman, Brielle Alwin, Tristan Blesich, Jensen Curtiss, Kat Kuzmic, Katelynne Minich, and Darian Wilson. Many of them had done One Act for three or four years. Caleb Garcia, a junior, showed his great appreciation of the seniors when he said his least favorite part of this year's One Act was "realizing that this was my last One Act with my favorite seniors. I'm going to miss all of you guys." Tristan, a four year One Act member, said his favorite part of this year was "All the people that I did it with, the fun practices and the long bus ride to and back from districts. It was just a great experience that you can't replicate anywhere else." Jensen Curtiss, the four year One Act tech member, said her favorite part of this year was, "How the entire school got involved this year".
The One Act team this year not only worked day and night to perfect their show, but also earned amazing scores and awards at Districts. This One Act team not only brought the story of Hamlette to life, but it also brought a family together on stage.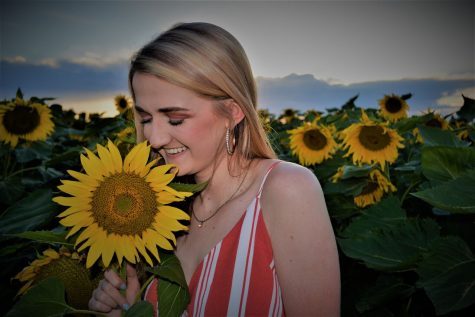 Brielle Alwin, Staff Writer
I'm Brielle Alwin. I'm a senior here at AHS and this is my first year with the SPUD. I am seventeen years old and have lived in Alliance for thirteen years.

I...