AHS Choir
Hang on for a minute...we're trying to find some more stories you might like.
Everyone deserves to have a place where they can sing, dance, and be free. In room 302, dancing and singing is all that occurs, for it is the home of the AHS choirs. The three choirs are Mixed choir, Harmonics, and Velocity. Mixed choir is unique in the way that it is a boys and girls standing choir. Harmonics and Velocity are more similar. Harmonics is the varsity boys and girls show choir; where as Velocity is the junior varsity all girls show choir. All these choirs are directed by Ms. Christina Kloch.
All three choirs performed four songs at their fall concert on October 23, 2018.  Mixed choir sang Funga Alafia, arranged by Erik Whitehill, with solos from Tristan Bleisch and Stephen Reid. They also performed Music in the Water by Victor C. Johnson, Amanti Costanti from The Marriage of Figaro, arranged by Patrick M. Liebergen, and Music Leads the Way! by Laura Farnell and Henry Van Dyke.
Harmonics' show consisted of The Defining Moment by Pinkzebra, and Happiness with a solo from Stephen Reid, arranged by Roger Emerson. The choir also sang For Forever from the broadway musical Dear Evan Hansen, with soloists Shailee Thompson, Sal Valadez, Tristan Bleisch, and Aubrey Garrett, arranged by Jacob Narverud. Their final song was Na Na Na with solos from  Liz Johnson and Dante Lambrecht, arranged by Mac Huff.
The girls in Velocity sang Rise with soloist Chloe Blumenthal, arranged by Mac Huff, and Something Just Like This with a solo from Maruka Lopez, arranged by Mark Brymer. Velocity also performed Your Song, arranged by Mac Huff and Brand New, arranged by Roger Emerson.
Each choir has two choir officers, who are chosen by majority vote during the first week of school, and are in charge of taking attendance, sending out reminders, finding dresses and shoes, and leading the class while Ms. Kloch is gone. In Mixed choir, Caleb Garcia and Mareesa Buskirk are choir officers. For Harmonics, the choir officers are Liz Johnson and Brielle Alwin. The choir officers for Velocity include Sydni Campbell and Mikayla Moreno.
Ms. Kloch says the goals for the choirs are "to build a team and a family while we push ourselves further. Also, we want to learn more about music than in the past as the students expand their community outreach to keep their presence." All the students have been working hard to perfect their shows.
All the choirs must memorize four songs and the show choirs must learn four dances which will be performed at their annual competitions. Their first competition, Old West Fest, is on November 3 in Scottsbluff. There, choirs are broken down into classes and each perform their show. Each school is awarded a bronze, silver, or gold rating. One choir from each class is invited back to compete for the night show where they will perform their entire show again. The winner of the night show is awarded The Best of the Fest.
The second competition they attend is the NCDA Show Choir Festival in Imperial. Along with ten other schools, Harmonics and Velocity are judged on a point system. Each choir must get a certain amount of points to receive a gold rating. As Ms. Kloch says, "we compete against ourselves."
Choir is a place where kids can express themselves through music and dancing. The students learn a great deal of musical information while learning the music and moves. With tons of creativity and love, a small family will always live inside room 302.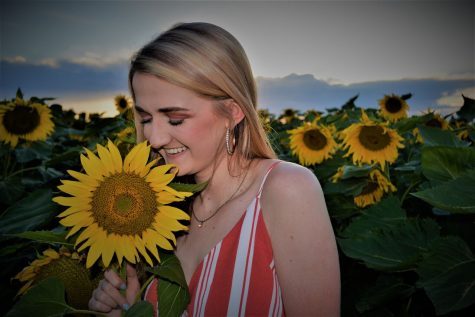 Brielle Alwin, Staff Writer
I'm Brielle Alwin. I'm a senior here at AHS and this is my first year with the SPUD. I am seventeen years old and have lived in Alliance for thirteen years.

I...