Five Journalists Head to State
Hang on for a minute...we're trying to find some more stories you might like.
This time of year is a busy month for students and athletes. Students are preparing for their end of the year tests and the athletes are training for upcoming spring sports. Over the past two months, there has been multitude of sports going on with March Madness, scholastics fair and all of the state competitions taking place. These busy months leave students in their most competitive state of mind wanting to bring home a state win or the highest score on a test in order to prove themselves. State competitions are at the top of the list for being 'competitive' for sports such as basketball, tennis, wrestling, golf and so on, but did you know there is also State Journalism? Yes, State Journalism is a real thing.
This year alone, Journalism students from 67 different schools submitted 2,646 separate pieces of writing, cartoons, or photos to NSAA before the deadline, March 1, 2017.
On Monday, April 3, a little over a month later, all of the selected submissions chosen for State, were posted on the NSAA website right around lunch time. For the 21 possible categories ranging from column writing to photo submissions, twelve submissions were chosen for each category and listed with the writer or creator at https://nsaahome.org/nsaaforms/jo/prelimresults.php?catid=full. The full schedule of events, general information, maps, and the criteria used for judging all of the state submissions can also be found on NSAA.
This year, for the 2017 State Journalism convention, we have had five of our very own Bulldogs qualify. The qualifying students include senior and Editor-in-Chief for the SPUD, Peyton Stoike, junior, Sharia Williamson, Co-Junior Website Editors, Safyre Yearling, Autumn Hoff, and sophomore, Aubrie Lawrence. The five bulldogs along with the SPUD teacher, Mrs. Digmann will be traveling to Norfolk, Nebraska on April 23, and will participate at State on April 24.
Editor-in-Chief of the SPUD, Peyton Stoike – Sports/Action Photography:

Juniors, Safyre Yearling and Sharia Williamson – Advertisement: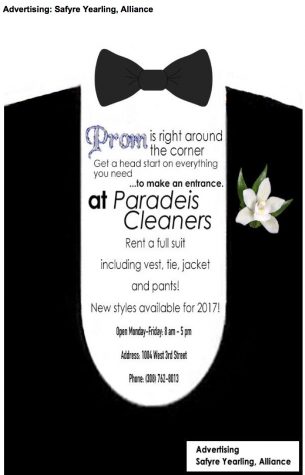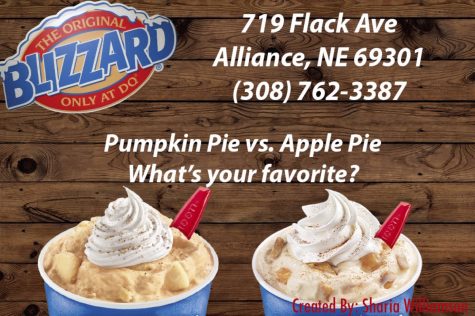 Junior, Autumn Hoff – Editorial Cartooning: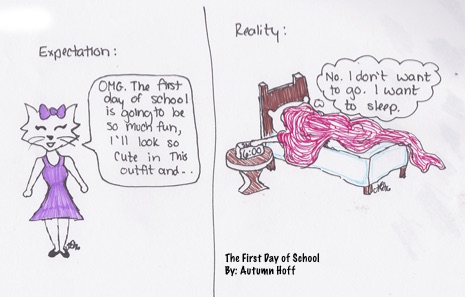 Sophomore Aubrie Lawrence, Peyton Stoike, and Safyre Yearling – In-Depth Newspaper Coverage: https://ahsthespud.com/student-life/2016/10/18/band-from-three-perspectives/
What happens at state journalism, you may ask? Well, when our five qualifiers arrive to Norfolk, they will be welcomed with the rest of the state qualifiers at 8:15 AM. Then at the two designated times, 8:45 AM and 10:30 AM, there will be sessions that correlate with their qualifying category. The advertising qualifiers will go to a class at 10:30 AM with all of the other ad qualifiers. They will be given a prompt and then they will have an hour to gather information and put together an ad off the top of their head. Autumn Hoff will also be given a prompt for an editorial cartoon and will have an hour to draw a cartoon meeting the standards of the prompt.
"I was very pleased to find out that I had made it to state again this year, even though my events are preliminary. Attending state is a good step to my future career as a journalist.", two-time State Journalism participate, Peyton Stoike, stated.
As for senior Peyton Stoike, the 2017 State Journalism Convention will be bitter sweet. This is the second and last time she will qualify, but she will go on to further her Journalist career at the University of Nebraska in Lincoln. For the rest of the underclassmen in the SPUD, they will continue their writing and re-enter for State Journalism next year. Alliance High School and The SPUD wish all of this year's State Journalism participates good luck in Norfolk!