Happy Hands Contest
Hang on for a minute...we're trying to find some more stories you might like.
On January 26, 2017, four students from Alliance High School were announced to be four of five semi-finalists in the Happy Hands soap dispenser contest.
The Happy Hands contest is a contest that promotes the importance of hand washing for everyone, both young and old. The contest is open to students from grades K-12 across the nation. The student's personal design choice is judged on four things: visual appeal, overall design, creativity, and unique design element.
Mrs. Brock, the art teacher here at Alliance High School, has always found an interest in signing up for contests. After the school's librarian, Mrs. Roberts, introduced her to the Happy Hands Contest, she presented the idea to some of her students, had them each come up with a design, and asked the students to get a signature from a parent allowing the release of their artwork.
With the fast approaching deadline and only a few days for the students to complete their artwork, 95 of Mrs. Brock's fall semester students entered the contest with a design of their choosing.
Finally, on January 26, the finalists were posted on the deb group website. Under the three categories, elementary school, middle school, and high school, a total of 15 students were listed along with a picture of their design. The public has been asked to vote for their favorite design from each category. You can vote your opinion at http://www.debgroup.com/us/happy-hands.
The semi-finalists from Alliance include freshmen Margaret Hoff and Harley Hill, sophomore Uriah Little Hoop, and junior Lesley Delao.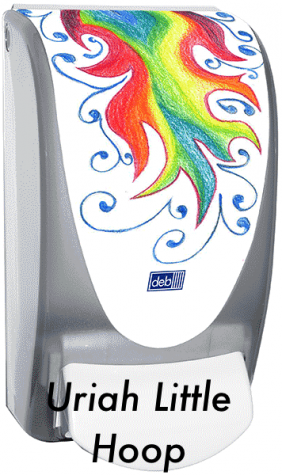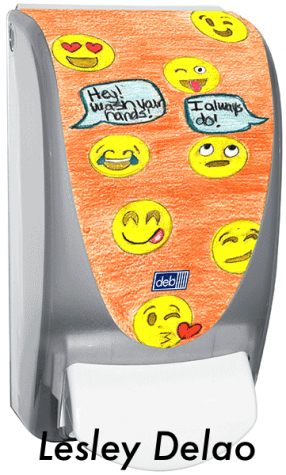 The finalist from each category with the most votes by March 1, 2017, will receive 500 dollars cash, a 200 dollar gift card, and up to 500 sanitizer dispensers with their design plastered on them with the possibility of being distributed throughout their school system.
After seeing that four of her students were listed, Mrs. Brock exclaimed, "I'm extremely excited about four of my students making it." She continued, "This is a big deal for me and I hope it is for them. I have never had a student make it this far in a competition and then to have four of them, it's amazing!"
The teachers and students at Alliance High School wish all of the semi-finalists the best of luck!