Learning Life-Long Skills at AHS
Hang on for a minute...we're trying to find some more stories you might like.
At Alliance High School, multiple activities are highlighted yearly such as sports, performing arts, dances, and fundraisers. These are all common activities that tend to get a great amount of attention, which they deserve, but they are not the only activities taking place in our school system.
Some of the lesser known activities are performed by students enrolled in living skills class and vocational class. Mrs. Schoeneman, a teacher here at Alliance High School, shared some of the activities that the students participate in.
In their living skills class, the students prepare a meal of their choosing once every week that follows a rotating schedule. This rotating schedule will tell what a specific student's duties are to help in preparing that meal for the class period.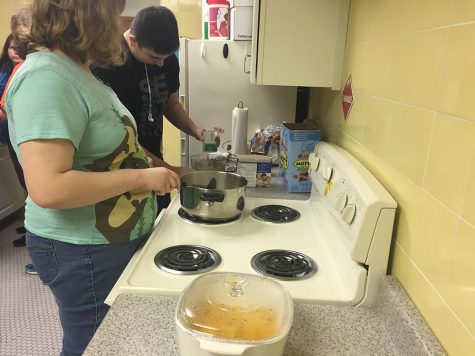 When it is the designated time to cook their own meal, they follow the "My Plate" dietary guidelines and all of the students will pitch in ideas for what meal they wish to prepare. For the most part, all of the meals are fairly simple recipes that all of the students can enjoy on a normal day at home or later in life after graduation.
The students mostly enjoy Italian and Mexican food, but over the years, there has been a wide variety of food choices. On Thursday, January 12, they prepared chicken strips, macaroni and cheese, applesauce, and green beans.
The students learn skills that will help them later in life, according to Mrs. Schoeneman. "We work on several skills that are necessary for independent living such as: planning nutritious meals, kitchen and food safety, following recipes, using kitchen equipment and tools correctly, grocery shopping, budgeting, table manners and cleaning our work areas."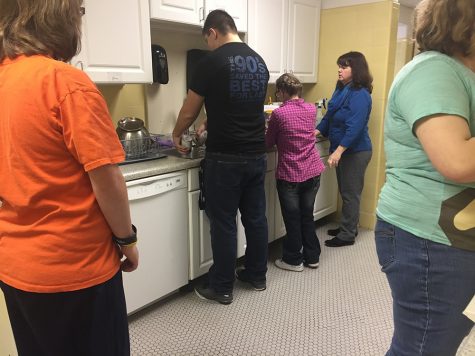 In addition to the food preparation skills, the students also assist in buying snacks for the children at Kiddie Kampus Preschool. The students will then personally deliver the groceries to Kiddie Kampus.
"It gives the students the opportunity to become more familiar with departments in the grocery store, find specific items and compare prices to find the best value," Mrs. Schoeneman stated.
Aside from the living skills class, there are four students who are enrolled in the vocational class that participate in the "Bulldog Linen Service". For the past three years, these students, including a few other returning students, have helped collect, wash, fold, and return the linens, oven mitts, towels, and washrags from all of the Alliance Public Schools' cafeterias.
The job coach, Mrs. Berglund, helps the students enrolled in the vocational class deliver all of the clean linens back to the school cafeterias, while being sure to check a chart that the students have filled out with the information of which school gets what amount of clean linen. Having this chart helps ensure each school gets the same amount of linen that was sent in.
With the students' and teachers' help washing the schools' linen, they have helped to save the district a great deal of money. Now that an outside laundry service is no longer needed to wash the schools' dirty laundry, both the students enrolled in these classes and the district gain something from this vocational training activity.
Despite the fact that these are unassuming activities, they tend to shine through and benefit not only the students involved, but their teachers, classmates, and school.
Mrs. Schoeneman acknowledges the importance of teaching basic skills. She stated, "I am very thankful that we have this program in our school.  It falls in line with our mission statement of developing individual skills to help students have a successful future." She went on to determine that their main goal is to "have every student learn skills to help them be as independent as possible."
During this time in a student's life, Mrs. Shoeneman believes that it is very crucial for her students to learn to be independent and to not have to depend on another so much.
"Students have different ability levels, but we want each of them to reach their full potential. Vocational and living skills classes are very important in helping the students reach their goal of independence."
Finally, when Mrs. Schoeneman was asked about her point of view on classes that will teach students basic skills, such as the ones her students attend, to be required for all students, she replied with "I think the school is doing its part by providing the opportunity for students to take these types of classes.  We have a nice variety of Family and Consumer Science Classes, Financial Training (Moneywise) and Vocational classes."
She also finds that by the school having some of these classes as required or elective courses, the school "strikes a good balance" in providing classes that all students can gain everyday life skills in.
These kids are truly an amazing group of students that have some amazing teachers and paras, who will stop at nothing to see their students succeed in living independently.