Attorney General Visits AHS
Nebraska's Attorney General, Doug Peterson, visited Alliance High School on Wednesday, March 27. Peterson traveled across the panhandle last week to speak to middle school and high school students to educate them on the harmful effects of drugs and the potential dangers the internet can have on them.
Attorney General Peterson shared his own personal experiences during grade school and high school. He recounted some of the poor choices that his friends made during grade school that snowballed into very harmful habits once they reached high school. Peterson explained that some of his friends tried a drug that they deemed "harmless" until they began exploring stronger, more dangerous drugs. He had personally seen his friends change as they stumbled down the wrong path and disrupt their futures.
One point that was stressed towards the audience was: "Just because the pills are in an orange pharmacy bottle, does not mean that the contents are safe." Peterson said this during the topic of how parties can lead to drug use. He spoke of the harms of addiction due to pharmaceutical painkillers and the lengths that someone his age took to get more painkillers.
Another point of Peterson's presentation was the effect marijuana has on today's youth. The drug companies have bred plants that produce insanely high levels of cannabis, which could then be extracted and put into other forms. These forms include edibles such as gummy bears. Peterson went on to explain that the effects of marijuana are not only addictive, but can easily damage the brain and stunt brain growth. It was imperative for the audience to understand this as teen's minds are still developing even beyond high school.
Peterson moved on to explain that drugs are not the only dangers that teens can be exposed to during middle school and high school. He explained that computers and cell phones are full of people who like to target young teens on the internet through multiple forms of manipulation. These predators pose as younger people online and usually message the opposite gender. The audience was warned to be slow to trust strangers online because of people whose goals are to traffick young adults.
Peterson explained, "If the audience had to take one thing from my presentation today, it would be that the decisions they make today can affect their entire lives." The purpose of the serious topics of Peterson's presentation was to educate and warn the targets of drug marketing, addiction, and internet safety. One of his goals as Attorney General is to help stop drug use in young adults and unsafe internet use.
About the Contributor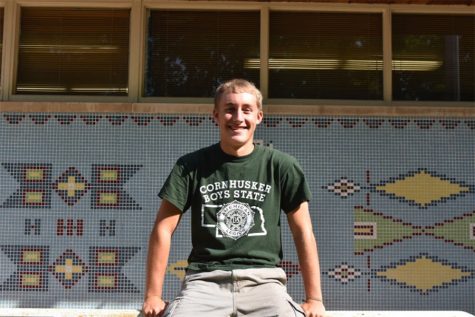 Zachary Placek, Senior Editor
Hello, I am Zachary Placek. I am a senior at Alliance High School. This is my second year on the SPUD, and I am our Senior Editor. Last year, I competed...