Fitbits: Fitness or Security?
Hang on for a minute...we're trying to find some more stories you might like.
On January 27, 20-year-old Nathan Ruser, discovered that the popular fitness trackers, known as Fitbits, are revealing sensitive information about our military across the world.
He is currently studying international security and the Middle East, which lead him to the discovery. While observing a mapping blog, he learned about Strava, a website known for mapping the most used routes for fitness gurus. Those who are interested in fitness, can download Strava as an app on their phone. This tracks their overall daily performance and routes. Upon doing more research, Ruser found that if you zoomed in on the website's map, you could see highlighted portions that indicated the most popular routes among those who use a fitness tracking device.
"I wondered, does it show U.S. soldiers?" Ruser stated. He chose to zoom in on Syria and sure enough, he found that there were multiple highlighted routes surrounding the U.S. bases.
Ruser released this information on Twitter along with two pictures as proof.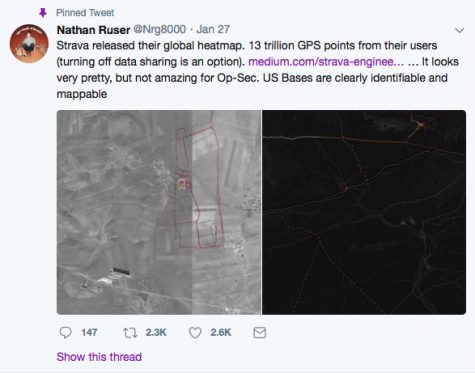 His tweet has multiple responses from retired and current military personal, and common citizens, who did their own research on Strava. They found that their own bases, as well as others they didn't even know existed. Even some of the most secure bases were being unknowingly tracked.
Not only is Strava tracking the routes, but there are some instances in which people using the app have been able to set it up to reveal the names and personal information of all those who have used the same route as them.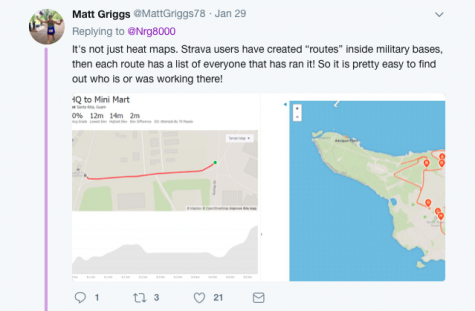 This might not seem like a big deal to many, since most base locations are public knowledge, but this does not just show an estimated location. It gives out detailed information on the most commonly used entrances and exits to these bases. It also shows the patrolling routes and even the routes U.S. boats or ferries have taken. This could grow into a much larger issue and leave the U.S. bases, and the soldiers in them, vulnerable. Something as simple as as a glowing area on the map could indicate where our troops spend the most time. This includes places they eat, sleep, train, or hang out during their free time. This could place them as possible targets for oncoming attacks.
At first, the military did not release their regulations on the fitness tracking devices, but in 2013, the military highly encouraged the use of fitness trackers. They went as far as handing out Fitbits to their soldiers as a way to fight obesity. It took a couple of days to get a response from the officials, but as of January 29, they announced that they were reviewing their rules over the fitness trackers.
There has been no further information or updates on the militaries decision, but it is still high encouraged by many other military members on social media to shut off your sharing data option.