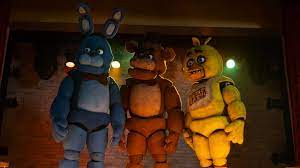 The FNAF movie has brought many fans back with all the different twists and I'm here to talk about all the twists (warning there will be spoilers).
The main characters were: Mike Schmidt, Vanessa Monroe, Aunt Jan, Abby Schmidt, Steve Raglan (William Afton), and the animatronics; Freddy, Bonnie, Chica, Foxy, and Mr. Cupcake. 
The start of the movie shows Mike and Abby getting ready for the day, then there is a scene with Mike being fired because he fought a kid's father in front of the kid during work. He did this thinking the kid was being taken because of the memory of his brother being kidnapped when he was younger.
I thought Abby might have been Mike's daughter, but actually, she was Mike's little sister in the movie. I find it weird that they called the siblings Abby and Garrett, but kept Mike's name. In the original lore, it's Mike, the eldest brother; Elizabeth, the little sister; Evan, the second oldest brother; and their father would've been William Afton. In the movie, their father is named Jack Schmidt and instead, William Afton is the cop's, Vanessa Monroe's father.
Story continues below advertisement
The lore in the game and movie are mostly the same, but some differences are how Garrett got kidnapped, the springlocked scene, and the custody battle over Abby. In the game "Garrett" actually got killed by an animatronic, William Afton got locked in the spring-locked suit and locked by censoring sweat, and there was never a custody battle in the game.
In the movie, they had many different little hints and secrets in scenes, referencing the books and games. Some of these were so obvious like an animatronic on the cover of Fazbear Frights #3, the mirror saying "It's me", and the showtime button referencing FNAF VR.
There are many other hidden gems in the movie, which has eaten more theories in my head now than ever before. I really think they will kill off a main character in the next movie to make the story different while keeping people focused on the rest of the story. I have a feeling that there will be more characters and information about the past that will be important to this. 
In my opinion, the movie was amazing. People have said it should've been scarier, but what happened in the film was perfect for the lore. I would recommend everyone to watch it with some friends!