Upcoming Games: April 2018
Hang on for a minute...we're trying to find some more stories you might like.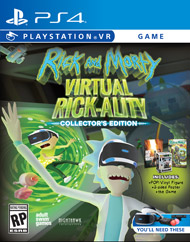 Rick and Morty- Virtual-Rick-ality– April 10
In this virtual reality adventure, based on the comical show Rick and Morty, Rick creates a clone of Morty, demanding him to do all of the chores. When Clone Morty refuses, Rick sees no use for him anymore and shoots him. Clone Morty then appears in purgatory and is given the choice to return to the garage. When he returns, Rick demands the clone to do a multitude of other outrageous chores such as; obtaining a device needed to repair the computer, retrieve a seed stuck in the toilet, and then use that seed to upgrade Rick's spaceship. Rick then takes his spaceship and breaks down at a celestial nature preserve. When Clone Morty teleports to the scene, they are caught trespassing. Rick equips Clone Morty with firearms to fight off the Galactic Federation while the spaceship is being repaired. Clone Morty is abandoned at the nature reserve and commits suicide. Once again in purgatory, Clone Morty chooses to return to the garage where he is tasked with another variety of out of this world objectives.
Console: PS4, Microsoft Windows
Publisher: Adult Swim, Adult Swim Games
Developer: Owlchemy Labs
Genre: Simulation Video Game
In the many years since he struck vengeance upon the Olympian gods and faced off against his father Zeus, Kratos has been hiding in the world of the Norse gods with his son, Atreus. This world is a savage land filled with vicious monsters and warriors. To teach his son how to survive this rough world, Kratos must master the rage that has driven his search for vengeance against his father. He must also learn to become the father and role model to his son. Meanwhile, Kratos must contend with the Norse gods and prove that he is better than the man he once was. While spending time with his father, Atreus learns of his father's past and must choose whether he will be like his father, or make his own destiny.
Console: PS4
Publisher: Sony Interactive Entertainment, Capcom, Sony Pictures
Developer: Ready at Dawn, Javaground, Daybreak Game Company, SIE Santa Monica Studio
Genre: Action- Adventure
Explore a beautiful and dangerous world while fighting against Mormo, an evil race that plagues the island. With each adventure uniquely tailored to the player, you must brave menacing dungeons and improve your hero to face the ultimate evil by unleashing the mystical sword of Ditto.
Console: PS4, Microsoft Word
Publisher: Devolver Digital
Developer: Onebitbeyond
Genre: Action Role-Playing
In this two-player cooperative game, you play as Sir Albert Wickes and The Right and Honorable Clarence Baxter, two 19th century explorers who are piloting the HMS Fearful, as it makes its treacherous maiden voyage to Mars. You and your partner must work together to solve the problems that may arise to keep the explorers, and the voyage itself, alive.
Console: PC
Publisher: It's Anecdotal
Developer: It's Anecdotal
Genre: Adventure puzzle
The weather outside is beginning to get warmer, and the games this month will keep any gamer inside, enjoying the air conditioning. So check out any one of these great games to get you through to summer.
Other games coming this month:
Extinction – (PC, PS4, Xbox One) – April 10th
Total War Saga: Thrones of Britannia – (PC) – April 19
Frostpunk – (PC) – April 24th