The Bulldog Way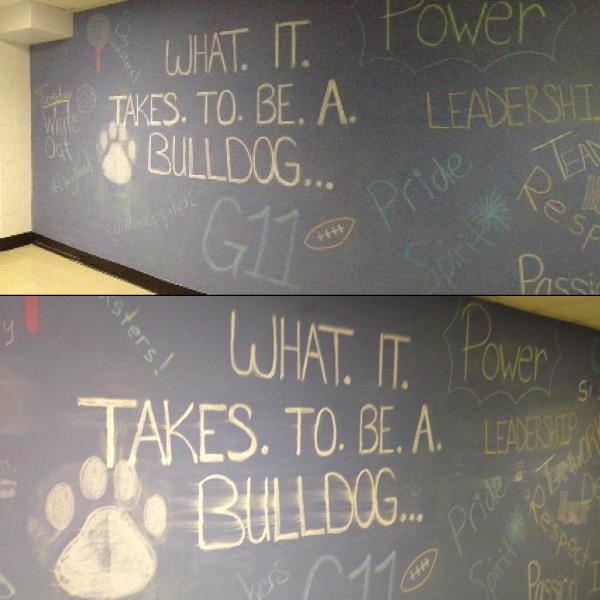 "A true leader has the confidence to stand alone, the courage to make tough decisions, and the compassion to listen to the needs of others. He does not set out to be a leader, but becomes one by the quality of his actions and the integrity of his intent." –Douglas MacArthur
Respect and responsibility is a big part of being able to call yourself a bulldog. Not very many students think about that though. Whether inside or outside of school, some students don't think about their reputation. Everything that we do reflects back upon us and defines who we are. There are two choices after a decision. Either continue to make those decisions, good or bad, or take a completely different road, also good or bad. The consequences speak for themselves. Either you are congratulated and looked up to, or you feel shame and scolding. Respect is something that isn't looked up to as much as it used to be. The authority respect brings isn't even respected. That's not the bulldog way.
Many instances at the school have showed the lack of respect. The custodians here at AHS work so hard to keep the school looking nice and clean. Some kids still don't pick up their trash and leave messes all throughout the commons area right after the custodians get done cleaning. Another example would be the chalk hallway. Last year, people shared their dreams on the wall. This year, the Dawg Pound took up some of their own time to go clean it off and decorated it one night so it was ready for school. The next day, kids were already running their hands through the fresh chalk, smearing it and putting handprints all over the wall. That's not the bulldog way.
The bulldog way is to take responsibility and to be a leader. The bulldog way is to be the bigger person. The bulldog way is to have respect for others and what they do. The Dawg Pound tries to set an example for other students in the school; an example for kids to follow. People don't realize how much time people put in to make our school look nice and respectable. There was a lot of time and hard work put into the chalk wall. As a member of the Dawg Pound and someone who put a lot of effort into helping with the project, it wasn't pleasing to see what had happened to it and what continues to happen to it. Respect is something that some students need to learn. Remember to make the right decision. Embrace the congratulation's and thank you's. Think about how that makes you look and how you feel. Try to gain respect. Gain the authority that defines you as a leader. Respect, responsibility, being the bigger person, being a leader: that's the bulldog way.