14-year-old student opens fire in school lunchroom
Hang on for a minute...we're trying to find some more stories you might like.
On Monday, February 29, a school shooting took place in Middletown, Ohio. The Madison Junior/Senior High School with 750 students and the town of Middletown are in devastation after a 14-year-old boy allegedly opened fire in the school's lunchroom.
Witnesses say that the commotion started at about 11:30 a.m. when James Austin Hancock, the shooter, opened fire and ran. Once outside, he dropped the gun, but was then apprehended by a police dog.
The motive for the shooting has not been revealed and there have been no fatalities, though 4 students were injured in the attack. All of the victims are expected to survive.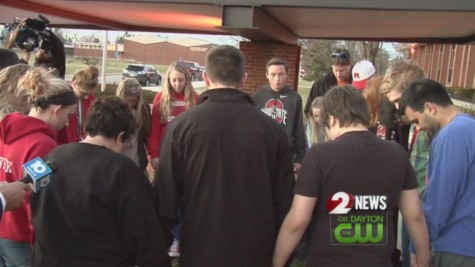 After the attack, 13-year-old, Shelby Kinnin said she heard "a couple bangs" and then realized she was in range of the shooter. "I didn't really know it was gunshots until I looked over and a kid was grabbing his leg and falling over," she continued.
Butler County Sheriff, Richard Jones, released a statement saying, "Two were hit by bullets, while the other two got hurt either by shrapnel from the handgun or by injuries getting away from the active shooter."
Hancock is being held in a juvenile detention center after Hancock's attorney, Ed Perry, denied the charges on behalf of the suspect during the court hearing held on the morning of March 1. Hancock is being held on two counts of attempted murder, two counts of felonious assault, inducing panic and making terroristic threats.
As of March 2, there has been no new information released about the Hancock case and the investigation is still ongoing trying to find the motive of this devastating shooting.