Mr. Hasz: Social Studies
One of the newest additions to the AHS faculty this year is Mr. Hasz. He teaches Economics, Current Events, U.S History and Sociology this semester then Psychology next semester.
Mr. Hasz has been teaching at various schools for the past 30 years. He recently retired from Omaha Public Schools. He explained, "Most of that time was at Burke High School. Before that, I was at Central High School in downtown Omaha." He also spent a period of time teaching at a catholic school in Omaha.
Mr. Hasz attended Northern State College in Everdeen, South Dakota and obtained a business degree. After that, he worked in business management for four years. He stated, "[I then] joined the military and I got a teaching certificate out of Buena Vista in Iowa and then a Master's degree through Peru State in Nebraska."
Much of Mr. Hasz's life has been spent in the military. He said, "Because of 9/11, I was gone for eight years- from 9/11 until 2014- so I was away from my school for eight years. I would get deployed, come back, deployed, come back, so I was on the go all the time." Due to being a part of the service, Mr. Hasz has done quite a bit of traveling. He noted, "I've been to the Middle East twice, Germany, Spain, Italy, Ireland- I know I'm forgetting some countries."
Mr. Hasz had various positions in the military. He stated, "I was a military policeman for 12 years, so I worked in prison camps. The first one was Desert Storm and we ran a Kosovo Terrorist Camp where we had some really bad people. There's a genocide that occurred in Kosovo in '99. The service went through and started massacring the Albanians. We held a lot of the people that were political prisoners and the atrocities and things of that nature." He went on to say, "When I got back in 2001, that summer that 9/11 happened, I became an officer and my last deployment was in Iraq. I was a transportation officer getting all the equipment from Tikrit Iraq, which, is Sudam Husain's hometown. I got injured in Iraq and after that I got sent back and had several surgeries. It took four years to get back to teaching."
The best part about teaching, Mr. Hasz remarked, is "the students. Talking to the students. I was retired because I retired from the military and I retired from Omaha Public Schools but I have to keep on going." He also noted, "It's nice to talk to the students here that are actually joining the military or want to join because I can give them a good briefing of what to expect.
Mr. Hasz enjoys fishing, hunting, being outdoors and spending time with family. Welcome to AHS!
About the Contributor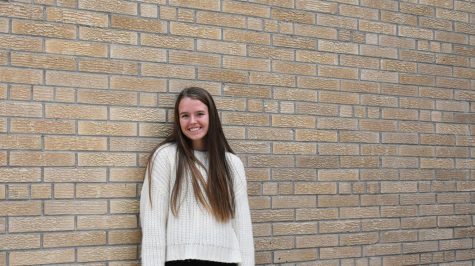 Shelbee Burke, Web Editor
Hi! I'm Shelbee Burke, a junior at AHS. This is my second year writing for the SPUD. I am the 16 year old daughter of Tom and Gail Burke. I am very active...