22 Reasons Why 2012 Will Be the Best Year of All Time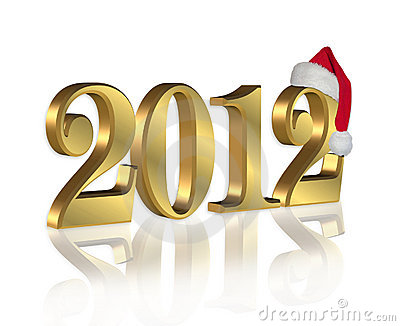 Hang on for a minute...we're trying to find some more stories you might like.
2012 is going to be the best year of my life—so far anyway. Here is a list—in no particular order—of the pop culture events that will rock my world and the other reasons why the upcoming year is going to be fantastic.
1. Of course, number one for me is graduating, moving away, and going to college. I have spent twelve years of my life building up to this point, and I am extremely ready to take the next step.
2. 'The Dark Knight Rises', the finale to Christopher Nolan's Batman trilogy is going to be the highlight of pop culture in the year. If you see a tent outside of the theater days before the premiere, you will know who it is.
3. 'Gangster Squad' is the upcoming mafia drama with a stellar cast. Ryan Gosling, Emma Stone, Sean Penn, Josh Brolin, and Nick Nolte have been confirmed. Hollywood has laid off of '50s gangster movies for a while, it's time for another one. With a cast like this, it is the one we have been waiting for.
4. I am so looking forward to the dumbstruck look on millions of faces when the world does not in fact end next December. Y2K: Episode 2 Revenge of the Idiots.
5. Call me a bore, but I am super excited to vote. I don't have any delusions about my one vote causing any change, but at least I will finally be able to say I am part of—albeit a very, very small part of—the decisions that go on in the country.
6. Terrence Malick took the world by storm with his incredible 'Tree of Life' this year. His next film—untitled as of now—will hopefully be another masterpiece. Ben Affleck and Rachel McAdam's are confirmed in the leads.
7. By far my most anticipated movie of 2012 is 'Django Unchained'. The film is a drama following a slave-turned-bounty hunter attempting to rescue his wife from a plantation owner. The film is by Quentin Tarantino, one of the most radical filmmakers, but one of the best. It has a stellar cast including Leonardo Dicaprio, Joseph Gordon-Levitt, and Samuel L. Jackson.
8. The Fray has been one of the most universally loved bands of the last ten years. Their third album, 'Scars and Stories', is going to be released February 7. Look for it.
9. 'Titanic' lovers everywhere should be pleased to get the opportunity to see it on the big screen again, this time in 3D. I am ecstatic to revisit the magic of one of the greatest films ever made, especially since I was too young to do so the first time around.
10. Ben Affleck has proven himself as one of the best young directors in the business with 'The Town' and 'Gone Baby Gone'. His third film, 'Argo' hits theaters in September, 2012. The film will follow a CIA operative as her tries to come up with a plan to rescue six Americans in the heat of the Iranian Revolution. This will be his first film not set in Boston, and I am excited to see if he can expand his subject matter with the same emotional impact.
11. While I question the decision to mess with any masterpieces, 'Star Wars' being re-released in 3D is getting a lot of hype. Look for 'Episode I' in theaters February 10.
12. Yellowcard has been one of the most iconic bands of alternative music in the last ten years, and my personal favorite. They were on hiatus for three years and then returned with a huge album on March 22, 2011. They are going back to making music; expect their new album in late 2012.
13. There has been a lot of buzz surrounding the Academy Awards this year. Last year's show was commonly referred to as the worst telecast of all time. The awards show often fails to attract younger viewers due to its lack of crowd-pleasing films. Billy Crystal, who has hosted successfully eight times before has signed on as the host, and the producers are hoping they can bring the success and magic back to the show.
14. 'Lincoln' is the director Steven Spielberg's newest creation. Daniel Day-Lewis, one of Hollywood's best, has signed on in the title roll and supporting roles by Tommy Lee Jones and Joseph Gordon-Levitt have been confirmed. This biopic is going to be huge.
15. 'Looper' is a remake of the classic sci-fi film in which a killer recognizes his next target as his future self. With Joseph Gordon-Levitt and Bruce Willis cast as the young/old Joe, this story has an enormous amount of potential.
16. 'This Means War' is an action comedy about two spies battling over a girl. It sounds a little cliché, but with Chris Pine, Tom Hardy, and Reese Witherspoon in the leads, this is going to be a fantastic movie.
17. 'The Place Beyond the Pines' stars Ryan Gosling and Bradley Cooper as a stuntman and politician respectively. When the stuntman commits a crime in order to provide for his family, he is put at odds with Cooper's character, a former police officer. Derek Cianfrance is set to direct, coming off of his darkly beautiful 'Blue Valentine'.
18. Guilty pleasure time: Ke3ha. New album sometime around May 2012. 'Nuff said.
19. 'The Walking Dead' has come to define most people's Sunday nights for a reason. It is dang good. The second season took a break after seven episodes, and will return for the final six on February 14, if the studio isn't overrun by impatient fanatics by then.
20. Seeing Will Ferrell and Zach Galifianakis play opposing politicians is an experience everyone needs. With 'Dogfight' on August 10, we will get our chance.
21. Mumford and Sons exploded onto the music scene this year with their debut album "Sigh No More". Their second album is probably the single most anticipated album of 2012. Expect it early in the year.
22. Although the Spiderman series with Tobey Maguire was wildly popular, by the third installment it had gotten stale. So what can you do when a much loved hero is abused in such a way? Start over. With 'The Amazing Spiderman' Hollywood is starting over. With new amazing cast including Andrew Garfield ('The Social Network') and Emma Stone ('The Help') and a new story, 'The Amazing Spiderman' is sure to be a big hit. Line up July 3. Bring your Spidey suit.