Not a Goodbye, Just a See You Later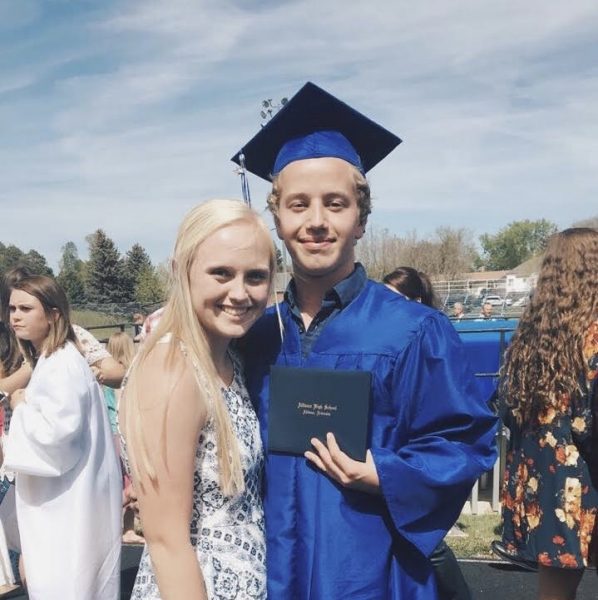 Hang on for a minute...we're trying to find some more stories you might like.
During the 2016-2017 school year, four foreign exchange students attended Alliance High School. They were all very different in good ways, and each had their own great personalities. When you hear about new foreign exchange students coming to your school, do you think that you are going to become best friends with them? Usually not. Never did I ever think I would have the friendship I have with an exchange student, but here I am, getting ready to say goodbye to one of my best friends.
Ro Garcia, the only female exchange student this year, was from Spain. Her host family was Mark, Melissa, Taven, Kyah, and Ellie Kimmel. Ro was very active when it came to school activities. She was present at many activities like football and volleyball games. She also played on the tennis team this spring. Ro had a large group of friends that she always had a good time with. Ro went back home to Spain on Monday, May 15.
Kim Ueno was a foreign exchange student from Japan. His host family altered throughout the year with Ryan and Nancy Reiber, Troy and Susan Unzicker, and Tony Amill and his wife, Mary Theresa Green. Kim ran cross country and track, and was hard to miss cheering along at school activities.
Gui Luche, an exchange student from Brazil, lived with Chance and Lisa Splattstoesser. His siblings were Shaylynn, Vanessa, Aubree, and Quinlee. Even though he was one of the shyer exchange students, once you got to know him you saw how outgoing and humorous he was. Gui enjoyed playing H-O-R-S-E and frisbee with his host siblings. One of his favorite things to do while his stay was to shoot archery with the local archery club, here in Alliance. He competed in tournaments and did well for his first time shooting. Gui left Alliance Saturday, May 20, and will start his trip back to Brazil alongside his mom and grandmother on Thursday, May 25.
Are Gjølberg Lien was the foreign exchange student from Norway. His host parents were also Chance and Lisa Splattstoesser. Are's hobbies included playing H-O-R-S-E, frisbee, archery, reading, and most of all, being with his new friends. He enjoyed being with his host family and exploring the area in which he lived. When it came to sporting events, fine arts concerts, and any other event in the area, Are was always present. He had a very large friend group and got along with everyone which was beneficial to anyone who wanted to get to know him. Are will make his way back home on Tuesday, May 30.
"I arrived in Alliance on August 17, 2016, during the middle of the night, with no idea what was ahead of me. I started school August 22nd, soon to realize that adjusting into the American society was truly going to be a challenge. I found myself acting and behaving in ways where I did not even recognize myself, in ways that I am now embarrassed to look back on. It took about three solid months before things started to drastically change for the better. I opened up to the American way, and once I did that, it welcomed me with open arms. Over the next few weeks, my experience as an exchange student improved a lot. I went from spending most my time on the couch, to barely ever having the time to sit down. I learned that for me to have any sort of good memories from this year, I had to let up to every single opportunity that I would get. Months turned into weeks, and weeks turned into days, quickly after this. Now, here I am today, with only a few days left before I pack up, not only my clothes and my things, but all these unforgettable memories, and say goodbye to this town forever. I say that, but I know that a huge part of me will never even leave Alliance. I will miss the amazing, open-minded and welcoming people. I will miss the motivation that this society gives a person. I will miss the amazing family that I am so lucky to have been introduced to. It has gone by so fast, too fast for me to even wrap my mind around. The most heartbreaking part is probably this; when I left Norway, I told my friends and family "goodbye, I will see you in ten months", but when I leave this little town that I am so lucky to call home, who knows when or even if I will return. I have been given amazing friends and family that I will keep with me forever. I am lucky that they gave me a reason to cry about the fact that I am leaving," Are Gjølberg Lien stated after asked about his experience in Alliance.
I never imagined that I would become as close to an exchange student as I did with Are. We have created an unbreakable bond in these short five months that I have gotten to know him. From him teaching me things about his country and the way things function there, to me correcting his English and calling him a "fool", I have truly been blessed with this friendship given to me. He has become one of my go tos and one of my best friends. He has affected me greatly with my self-esteem and my all around social life. I am going to be a bit lost when he leaves, but I'll just have to remember all of the memories made with him.
The foreign exchange students this year have been great to this school and our community, and it is heartbreaking to see them go; however, it is not a goodbye, it's just a see you later.