Bishop Charged With Manslaughter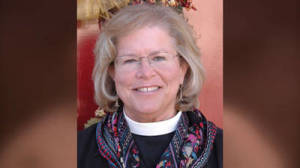 On December 27, 2014, a bishop from Maryland was charged with manslaughter as well as a few other offenses. Bishop Heather Cook, the second-highest ranking Episcopal leader, was driving drunk and texting, when she hit and killed a cyclist, Tom Palermo. On Monday, January 12, 2015, a Baltimore judge declined the offer to reduce the $2.5 million bail. Her attorney said that after hearing that Cook could not make bail at that amount and that she will stay in jail. At a bail review hearing on Monday afternoon, Assistant State Attorney Kurt Bjorklund asked the District Court Judge, Nicole Pastore Klein, to remove the possibility of any bail. Cook has a previous drunk driving conviction, in which Bjorklund pointed out. He also pointed out that Cook had left the scene where she hit the cyclist for about 30 minutes. Bjorklund said, "Cook is an extreme danger to public safety, dangerous, and a flight risk."
In 2010, Cook was charged with drunk driving in Caroline County. When taking a Breathalyzer Test, she registered .27-blood alcohol content. The legal limit in Maryland is .08. The police found wine, liquor and Marijuana in her car, but the drug charges were dropped after Cook pleaded guilty to the drunk driving offense. The prosecutors say that Cook was texting when she veered off and struck Palermo from behind in a residential neighborhood in northern Baltimore. The collision threw him onto the car's hood and over the windshield. Cook then drove to her house before returning. She then called herself in to the police station. After she was taken there, she was given a Breathalyzer Test. Cook was not only charged with vehicular manslaughter, but she was charged with criminal negligent manslaughter, failure to remain at the scene of an accident resulting in serious injury and death, using a text messaging device that resulted in an accident, and three drunken driving charges. If Cook is convicted of all charges, her attorney says she could face more than 20 years in prison.
"When I was ordained as a deacon, my father removed the stole from around his own neck and placed it over mine", said Cook. Cook's father was a priest, and he had raised his family in the Old St. Paul's Episcopal Church rectory in downtown Baltimore. Her father also had a history of alcohol abuse. During sermons, he has said that he was "an alcoholic suffering a relapse and seeking treatment." Alcoholism is a rampant epidemic in our society. It is a fatal disease, not only of the body, but of the mind and spirit.
The church's investigation is separate from the criminal investigation. The criminal investigation had lasted for almost two weeks after the incident to come up with charges for Cook. The chief of the conviction-integrity unit for the office of Baltimore State's Attorney, Marilyn Mosby, said, "Cook was not charged immediately to avoid the possibility of double jeopardy. If she had been given a traffic ticket, that might have prevented prosecutors from filing additional and more serious charges." They are still waiting for the charges for Cook to be released.