The Hunger Games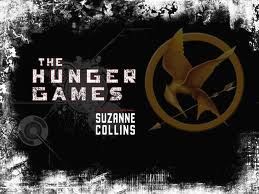 Hang on for a minute...we're trying to find some more stories you might like.
What is the book everyone and his grandma is reading? It's The Hunger Games. It is so popular you can't find it on book shelves and the only way people are getting it is by downloading the book on a Kindle or an iPad. Why is this book so popular? I will tell you why.
The book is set in a post-destruction society of Central America called Panem. Whose Capitol is a dystopia filled with futuristic technology. The people who inhabit the Capitol are living canvases who tattoo and color themselves to satisfy their desire for personal expression. The technology described in the book surpasses anything you have ever heard of: food at a push of a button; surgeons repairing blindness and hearing loss; showers designed to your specific needs at the push of a button; Avox slaves who were rebellious against the Capitol and now have their tongues cut out; and weapons that have taken killing to a whole new level. The Capitol operates like a police-state and is surrounded by 12 poor and oppressed districts that are forced to supply the Capitol with its needs.
As the story goes, seventy-four years ago the Capitol was surrounded by 13 Districts, however, district 13 revolted and the Capitol destroyed it to teach the others a lesson. In memory of that revolt and to remind the other districts of its power, the Capitol created an annual event designed to keep the Districts in their place and to let their residents know that The Capitol can control everything they do, even whether they live or die. Thus was born the Hunger Games wherein one boy and one girl from each district between the ages of 12-18 must put their names in a lottery for an annual reaping of contestants for the games. There's a catch though, many of these districts are so poor they are seduced by the Capitol's offer of a supply of necessities for one year to every eligible person who enters his or her name once for every person in his or her family. Those selected are known ever after as tributes
The tributes are sent to The Capitol where they are primed and readied for their competition. They enter the games where, and here's the crazy part, they kill each other. The only way to win is to kill your competition. When the tribute wins he or she receives eternal glory and is never poor again. Get it? Hunger Games. The ultimate fight for survival in a world where technology has out-paced compassion and humans have lost their humanity.
Or maybe not, Katniss Everdeen is the exception. She is from District 12 and she is willing to make the ultimate sacrifice, herself. Her sister, Primrose, was selected in the reaping and to save her, Katniss volunteered to take her place. All Katniss wants is for her family to survive. At the end of the Games she makes another sacrifice that turns the Capitol upside down.
This book goes in to so much detail about how the people die and the gore of it all it is a true page-turner. No one I have talked to has been able to stop reading these books until they have completed the entire trilogy wit its underlying themes of self-destruction, love, loss, and how much a person will sacrifice to save those she loves. If you can find this book read it! Enter the world of Panem and lose yourself in Katniss's fight for freedom.