Ms. Fox
With a new year comes new changes, and this 2020 school year is unlike any other year we have experienced. One thing we have learned this year is that change can be good, and new teachers are not an exception. This year, Alliance High School (AHS) has a lot of new faculty and staff that we are excited to welcome with open arms. Some members of the staff are not completely new; Ms. Sofia Fox has come back to AHS transforming from a sophomore student to a first-year teacher. 
Fox has filled the shoes of Mr. Mark Custer. She has taken over teaching Earth Science, Advanced Earth Science and Anatomy & Physiology.  Fox went to college at Peru State in Nebraska and majored in disease and human health. Fox attended AHS and Lincoln Southwest for her secondary education. She says, "I went to high school here until my junior year and then my family moved, so I graduated from Southwest in Lincoln." When asked what motivated her to teach at Alliance High she replied, "I knew I didn't want to teach at a big high school. I did a few practicums, which is a practice teaching, at Belview in Omaha. I really missed the small [schools]. I knew I wanted to teach at like a class B sized school. So when this position opened up, Mrs. Digmann called me and asked me if I'd be interested in applying, so it worked out really well." Fox's favorite class to teach is, "Anatomy and physiology. I love my anatomy and physiology. It's my seniors and they're really fun. It's a really fun class to teach; they are really interested in it." When asked what her favorite thing about teaching is she responded, "I love creating relationships with kids and getting to know them. The kids I have this year are super fun and we have a really good time." 
Ms. Fox is the youngest of eight children, and her youngest sibling is only eight years old. When asked what some of her hobbies are she said, "I like to read, I read a lot. Usually, I read fiction. This summer I spent a lot of time redoing furniture and stuff for a house I moved into. I really love doing that. [I like] finding stuff on the internet, and redoing stuff, and just being creative." Her favorite color is yellow. She says that it gives off "good vibes". Fox's favorite movie that she watched recently is Instant Family. When asked what her favorite TV show is she replied, "Probably Greys Anatomy; I've watched it like three times." Fox's favorite food is any kind of breakfast food. 
"I'm looking forward to, hopefully, cross our fingers that nothing with COVID happens, but just like homecoming and prom and just like seeing all my seniors go through their lasts," She says when asked what she is looking forward to this year, "and just celebrating that with them. That was always the best part of high school. So it's fun to participate in those from the other side of it." 
Welcome back to AHS Ms. Fox! All of the SPUD wishes you the best of luck for your first year teaching, and many more years to come!
About the Contributor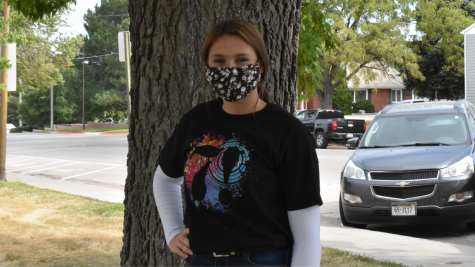 Chloe Mann, Staff Writer
Hello everyone! My name is Chloe Mann, and I am a junior here at AHS. This year is my first writing for the SPUD, and I am so excited about this opportunity!...