Turning to Jesus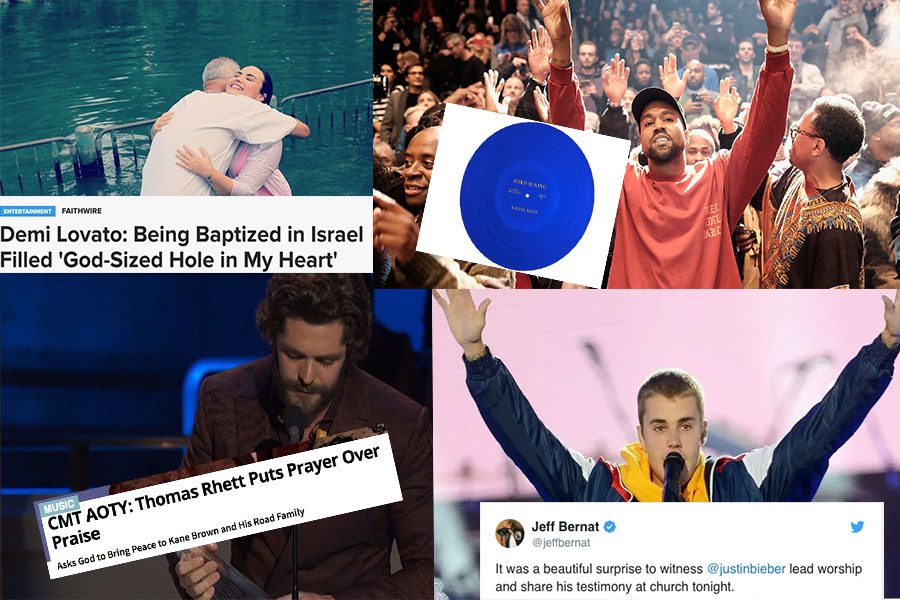 As always, celebrities are all over the media for lot of different things. Some celebrities may be known as people with good behavior or bad behavior, but lately, there has been a shift with lots of popular celebrities. The shift is good and has been titled as a religious shift. Some of these celebrities include Kanye West, Justin Bieber, Thomas Rhett, and Demi Lovato. 
First Kanye West. As many know, Kanye West came out with a new album named Jesus Is King. Jesus Is King is full of worship and Christian music. The album started lots of conversation about West and his religion and if he has turned to Christianity. 
 One of the top lines from "God Is" by Kanye West is "All my idols, let 'em go. All the demons, let 'em know. This a mission, not a show. This is my eternal soul." This quote let a lot of people know that Kanye West had completely changed his perspective about Christ. 
Another celebrity that has completely changed his life around Christ is Justin Bieber. Justin Bieber was spotted leading worship on August 28, 2019, at a church in L.A. and shared a powerful message. This may have been his most bold move as a mega superstar. People were surprised and shocked, but in a good way.
Bieber posted a video on his instagram of him singing and leading worship in front of a large group of people. In the caption he quoted, "Sang at church last night. God is pulling me through a hard season. Having trust in Jesus is the absolute hardest. But he is faithful to complete what he started. I also want to thank my wife for being such a huge support in my life through this season. It says in the Bible count it ALL JOY when you face trials of various kinds. Sounds insane when considering when you face trials u feel terrible. But if we are grateful and worship God for what we do in that season there is so much power in that.. whatever pain you are going through just keep telling yourself THIS WONT LAST! Love you guys we in this together." While he did not specifically say what was going on in his life, he thanked everyone that was close to him. The main message that he was trying to send out to his audience was, "There's power in your weakness." 
An additional celebrity that revolves her life around God is Demi Lovato. Demi Lovato grew up Christian and Jewish, and when she was given the opportunity to travel to Israel, she took it. She became baptized in Israel. She took this move due to the fact that during this trip she felt a "connection to God." This being something that she has felt was missing for so long from her life for a few years now. She stated, "Spirituality is so important to me…to be baptized in the Jordan river…I've never felt more renewed in my life." 
One final celebrity that decided to take a courageous move toward Christ was Thomas Rhett. On October 16, 2019, Thomas Rhett's wife was at Nashville's Schermerhorn Symphony Center to present her husband the 2019 CMT Artist of the Year award. Before his wife presented the award to him, she talked about how both of them and ten other guys spent 180 nights on the road touring, but she wouldn't have done it any other way because her husband gets to live his dream, follow his passion, and do the thing she knows God created him to do. 
When it was time to pick up his award, he thanked his wife, and talked a little bit about how he cried a little over the speeches others made such as Kane Brown and Ashley Mcbryde. He soon then took a moment and said, "I don't know if this is very conventional, but can I just pray, really fast? Is that okay with everybody? Father God, we love you so much. Loss is something that we can't comprehend, and so right now I pray that you would be with Kane and his family and his drummer Kenny, and his family, and bring them peace that only you know how to bring somebody. Thank you for this night. God bless country music. We love you, Jesus. And in your name we pray. Amen." This was in reaction to Kane Brown's drummer dying recently. 
So, in a time where it's taboo to promote your faith, these four musicians have very publicly voiced their beliefs. 
About the Contributor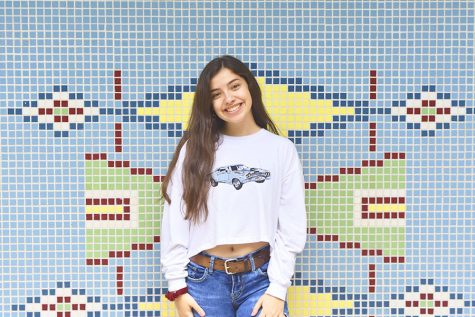 Jessyca Garza, Staff Writer
Hello! My name is Jessyca Garza. I am a sophomore at AHS, and this will be my first year writing for the SPUD. I'm the youngest daughter of Oneyda and...