Alliance High School Art Gala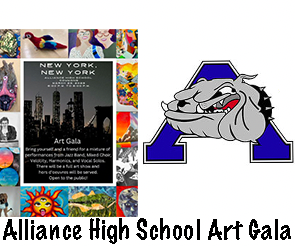 On March 23, 2023, The Alliance High School hosted their annual Art Gala. The Art Gala consisted of many departments, such as Band, Choir, and of course all the art programs. The Gala showed art from students working hard the past semester, some art even winning ribbons. Such as Carver Hauptman a senior at Alliance High School, who won Best of The Show for his painting "Inspired By Bob Ross". I asked Carver how did you feel knowing that you got placed as Best of the Show? He stated, " I feel amazing knowing I placed well, earning Best of The Show was my only goal throughout High School in art!". Carver was inspired by none other than Bob Ross where he used his style of painting.
     Besides the art was the amazing music performed by the Jazz band, they performed many songs. Besides their music was a stand selling meat sticks for their band trip in December to Atlanta. The meat sticks were a big hit with many people; the pickle flavor is my favorite! Following along the band was the music department, performing their most known songs. I asked Dr. Kloch how she feels performing for the Art Gala. She stated, "I thought overall performing was well, we tried a new space so it was kinda scary but overall it went well for us.".
  The Alliance High School and the community enjoys coming together and seeing everyone's amazing artwork. The SPUD will continue to look forward to the next years art show!