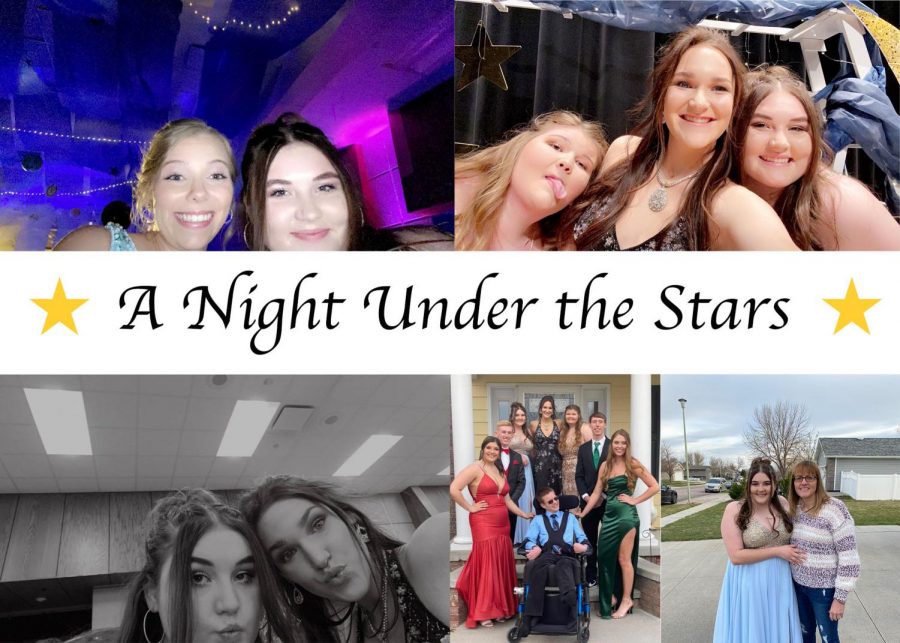 The juniors and their class representatives this year did a great job putting together the 2021 prom. After not being able to have a prom last year due to COVID-19, it was a much needed event. This year, they decided the theme should be a "Night Under the Stars". Many people were aboard with this idea, and knew it was going to be a great night with friends. The prom took place on Saturday, April 24. The candidates for prom royalty were Regan Lambert, Chase Boyer, Billi Alvarado, Crayten Cyza, Diana Kollars, Devin Hughes, Kelsey Horton, Jaxon Preble, Lizbeth Carillo and Bryson Darveau. It was an amazing night for all and many memories were made.
Walking into the dance, the school was decorated with shiny gold stars and glitter. It was very elegant and eye catching. The decorations made for great photos and brought in a night under the stars' ambiance. After checking in, everyone chatted, voted for royalty and took pictures together. Spectators were allowed into the PAC after paying $1.00 to get in, and Grand March then began. All the groups of friends and couples were announced one by one, and they walked out onto the stage for pictures. The audience was able to enjoy all of the girls' sparkly, pretty dresses and the boys' handsome tuxedos. After everyone had walked through, they announced the 2021 prom court. Second Attendants were Boyer and Horton. First Attendants were Preble and Kollars. Prom king and queen were Hughes and Lambert. After pictures of the court were taken, the dance began.
The dance ran from 9:00 p.m. to 12:00 a.m., followed by after-prom that would begin at 12:15 a.m.. The DJ played several throwback songs that many students danced and sang their hearts out to. They played classics like Apple Bottom Jeans, Wobble and the Cupid Shuffle. There was a mix of high speed songs to dance to with your friends and slow songs to dance to with your significant other. Many memories were made at the dance, but everyone was most excited for after prom.
After-prom started at 12:15 a.m., so those who attended could run home and change into comfier clothing. There was a variety of games that the students could play to win a different array of prizes. The money machine was very popular as everyone was trying to catch that extra buck. After the games were over, a hypnotist performed for everyone. Most people found this to be the best part of the night!
The 2021 prom brought joy to everyone who attended. The seniors were satisfied with their last prom here at Alliance High School, and the underclassmen are looking forward to next year! A huge thank you to the junior class for putting on such a spectacular night under the stars.