Ice Cream, Anyone?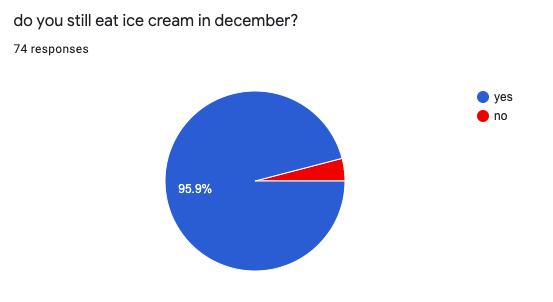 So, it's wintertime. What is there to do? What is there to enjoy? Ice cream of course! Why would you want to eat ice cream in the middle of December? Because December 13 is one of the two National Ice Cream days, of course! There was already one this year, which took place on July 19. What is the point in having two ice cream days? You may not be able to hear the happy tune of the ice cream truck or your favorite ice cream shop may be closed for the season, but having another national ice cream day is the perfect excuse to eat a pint or two of your favorite ice cream! I went to a few places to figure out the background of ice cream and how it came to be.
According to nationaltoday.com, the Persians made the very first form of ice cream in 500 B.C. It is said that they poured concentrate of grape juice over snow. While there are some who argue that this is not real ice cream, this is where the idea grew from. Most varieties of ice cream contain sugar, although some are made with other sweeteners. In some cases, artificial flavorings and colorings are used in addition to, or instead of, the natural ingredients. There have been many improvements from the first form of ice cream. There are so many flavors, types of ice cream, and ways for it to be served. I have surveyed the AHS students to see what they prefer when it comes to this delicious, creamy and cold dessert.
Of the classes of 2021, 2022, 2023 and 2024, there were 74 responses. All 74 students said that they liked ice cream. And of those 74, 63 of them prefer ice cream over frozen yogurt. Now for the good news! All but three of the students said that they still ate ice cream in December. So it is acceptable to have a day dedicated to ice cream in the middle of December. Most people eat lots of sugar around the holidays so what is a little more gonna hurt?
The first question asked was, "What is your favorite ice cream flavor?" Cookie dough took the lead with 31.1% of the votes, mi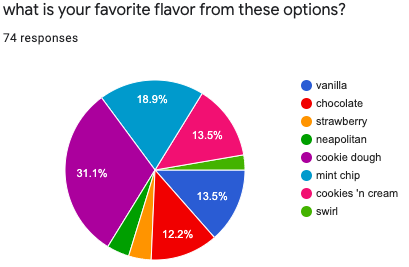 nt chip with 18.9%, and vanilla and cookies 'n cream tied with 13.5%. The other flavors were chocolate, strawberry, Neopolitan and swirl. They did not fall far behind taking up the leftover 23%
The poll revealed that of the options "whipped cream," "chocolate syrup," "caramel syrup," "strawberry syrup," "hot fudge," "maraschino cherry," "hard shell," "brownie," and "candy," the options "hot fudge" and "brownie" tied for first with 19.2% of the votes each. "Chocolate syrup" came in as second with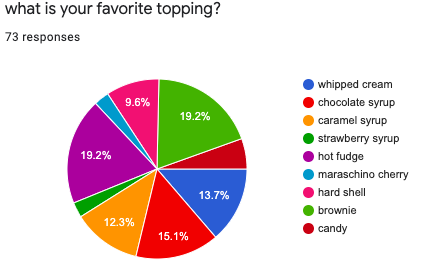 15.1%. And in third place was "whipped cream" with 13.7% of the votes.
The next question asked was, "What is your favorite of these options?" Soft serve came on top with 71.6%. Ice cream sandwiches came in second with 12.2% of the votes, and drumstick, klondike bar and ice cream popsicle came in last. The final question that I asked was, "How do you prefer to eat your ice cream?" I gave the options, "in a bowl," "in a waffle cone," and "in a normal cone." I was surprised when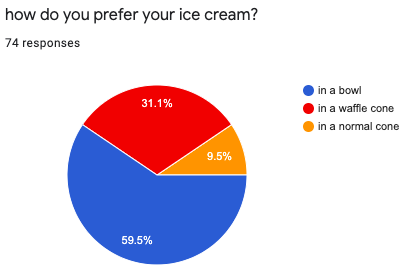 "in a bowl" came on top with 59.5% because I, personally, love waffle cones. But not shockingly "in a waffle cone" came in second with 31.1%.
There are so many different things to enjoy in the winter times, but don't forget your favorite scoop of ice cream. Every year there is a day dedicated to it on the 13th. You can eat what you know you love, or you can try new flavors and ways to eat it. After all, why would you turn down the excuse to eat ice cream?
About the Contributor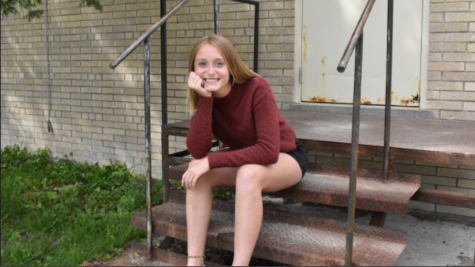 Brooklyn Branstiter, Staff Writer
Hey guys!! It's Brooklyn Branstiter. I am a 16-year-old in 11th grade. This is my first year on the Spud. I am the daughter of Shauna and Aaron Branstiter....