Exchanging Education: Sharing Struggles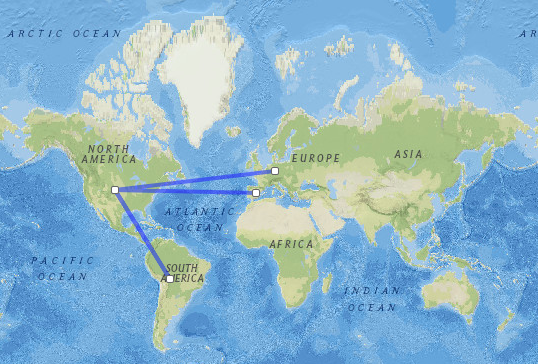 Hang on for a minute...we're trying to find some more stories you might like.
Each year, Alliance High School receives students from across the globe. These students come to America, leaving their families, friends, and culture behind as they come to America for a school year. Foreign exchange students experience so much change, as the only people they know on the first day of school is their host family. This year, Alliance High welcomed five exchange students. So, if you haven't met them yet, here are some things to know about each of them.
Jaime Fernandez is from Spain. He is staying with Lisa and Chance Splattstoesser, who he likes very much. Jaime said that school in Spain is a whole lot harder than it is in America. When discussing his hardest classes here, he said that it had to be math. However, his easiest classes are English and biology. In order to understand instructions for some of his schoolwork, he uses online translators. Jaime took part in tennis this fall by being the manager. He even had the chance to attend State with the team. The biggest difference Jaime found between America and Spain is the weather.
"The biggest difference between America and Spain is the weather. Here it is very cold, but in Spain, it is always warm," says Jaime.
Jaime also stated that he likes all kinds of music, as he doesn't mind the genre difference between countries. In order to keep up with news in Spain, he has news apps on his phone. He is most concerned about keeping track of how his favorite soccer teams are doing. Jaime noted that there is a lot more fast food here than in Spain. The things that Jaime misses most from Spain are his friends, family, soccer, and tennis.
Laura Nieseler is from Germany. She is staying with Tera and Jason Digmann. Her hardest classes include history and geometry. The classes that are easiest for her are choir and English. She says that she sometimes uses translators for her classes, but she doesn't need them all the time. Laura has joined one act, the speech team, and choir. When asked how her family back home differs from her host family, Laura stated, "Actually they're like my real family. Only a few rules are different."
Laura says that one of the biggest differences between America and Germany is that a lot of things are bigger here and people have different interests. She also says that her school in Germany has a lot more extracurricular activities than we have here. Laura likes all of the music that her friends listen to here, so there are just new songs, not new genres. In order to keep up with new events in Germany, Laura talks to friends back home about anything new that has happened in their town or at school. She says that slang terms that we use are confusing sometimes, because everyone uses abbreviations. One American TV show that Laura has grown to like is Grey's Anatomy. Laura says that the food here is good but is spicier than what she is used to. What Laura misses most about Germany is her table tennis team and having something to do every night, such as her youth group. She says she doesn't miss very many things because she is very happy here, but emphasized that she does miss the food back home.
Josefine Schnell is also from Germany. She is staying with Shannon Alwin and Jason Seidler. Her hardest class is American History, but her easiest class is foods and nutrition. Josefine says that she uses translators for her schoolwork almost every day. The biggest difference between her family back home and her host family is that she has a lot more rules here but they do more fun stuff here. The biggest difference between Germany and America to Josefine is the different mentality here and the food portions are bigger. She says that the food is always good, but that she usually cannot finish everything. Compared to her school back home, school here has the same schedule every day, while back home they aren't always the same. The biggest difference in music is that country music is completely new; besides that, she enjoys all of the music her friends listen to. In order to keep up with new things in Germany, Josefine messages and skypes with her friends and family. When asked about what she missed from home, Josefine said, "I miss being independent through the public transportation system, but I do not miss my old school."
Andrea Vargas is from Bolivia and is staying with Carley and Brandon Mundt. Her hardest class is Algebra II but her favorite class is moneywise. Andrea says that she usually uses translators for her school work but not all of the time. When describing her relationship with her host family, she said, "My host family is more young than my real parents, so usually I have different conversations with them."
Andrea says that a big difference between America and Bolivia is that it is easier to be healthy in Bolivia than it is here. She says her school in Bolivia requires her to take 16 classes, which are all chosen for her, and she cannot change them. She also says that each of her classes has the same kids in them. Andrea says that music back home is played with different music, and she isn't a big fan of the music here. She keeps track of the news in Bolivia by FaceTiming her friends and family. Andrea says that she does not usually watch American TV and never watches TV in Bolivia because it is really bad there. She says that the food is different, especially the fruit and vegetables because she can tell that they are processed here. She also stated that there is a lot more junk food here. Andrea does not miss her school from back home, but she misses salteńas and pasankalla, which are both Bolivian foods.
Henrik Saathoff is from Germany, he is staying with Mary Theresa Green and Tony Amill. His hardest class is American History, but his easiest class is geometry. Henrik says that he never uses translators for his school work. Henrik played football this year, saying that he really enjoyed it. He says that he is helping more here with his host family than he did with his family back home. Henrik said the weirdest difference between America and Germany is that there are so many pickups. He also says that school here has less breaks, while they are very common in Germany. Henrik hasn't noticed much change in the music here, because music back home has the same kinds of songs. While asked about keeping track of news in Germany, Henrik said, "I message my friends from home a lot, and they tell me everything that has happened at school and around Germany."
Henrik's favorite things to watch on TV are all of the funny cartoons. One thing he doesn't like about the food here is that, "The school food is not that tasty." Henrik misses his family and friends a lot, but does not miss his old school.
Not only is living somewhere completely new something to be nervous about, but these five exchange students are submersed into a whole new school, culture, and home. While all of this can be very scary to them, just a simple hello in the halls from someone new makes them a little less nervous. Now that you know a little about each foreign exchange student, don't be afraid to say hello to one of Alliance High School's foreign friends this year.