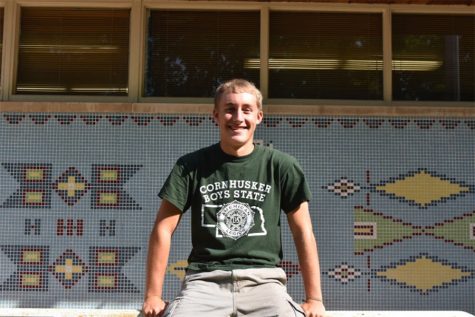 Hello, I am Zachary Placek. I am a senior at Alliance High School. This is my second year on the SPUD, and I am our Senior Editor. Last year, I competed at the state journalism competition in two events, but did not place. This year, I would like to qualify again for state and hopefully medal in competition.
I am the son of John and Lynn Placek, brother to Nicole Placek. We have a cat, Hobbs, who is less than a year old and very playful. As a family, we like to go to at least one Nebraska Husker game and one Rapid City Rush game each year.
Each year in high school, I have played tennis and run track. I have lettered in tennis and competed at state every year. For track, I have been on the varsity team each year.
When I graduate from Alliance, I plan to go to college to study pre-dental. After that, I plan to go to dental school and later open a private practice.
In order to reach this goal, I am applying for the RHOP and KHOP programs for Chadron and Wayne State Colleges, as well as the University of Nebraska at Kearney. Another way I can reach my goal is by applying to West Point Military Academy and the United States Naval Academy. I have a lot of options but also a lot of decisions to make.
I'm a reader and a lover of movies. I love to read just about any book that can keep me on my toes. I also hate good books that don't have any sequels because I'm always left wanting to read more. My favorite movies to watch are Marvel movies, they're the best, even the X-MEN movies.
In my free time, I tend to watch a lot of Youtube and Netflix, because it allows me to relax and I get to watch basically anything from sports highlights to old vines… RIP vine.
Zachary Placek, Senior Editor
May 07, 2019
May 01, 2019
Apr 25, 2019

My Monthly Issue: Big Brother

(Story)

Apr 02, 2019

Attorney General Visits AHS

(Story)

Mar 22, 2019

Senior Side: Spring? Where? When? Now? No.

(Story)

Feb 28, 2019

My Senior Sideline

(Story)

Feb 26, 2019

Breaking News… Nothing New

(Story)

Feb 14, 2019

Cloudy with a Change of Nothing

(Story)

Feb 01, 2019

Alliance FBLA Wins Best of the West

(Story)

Jan 31, 2019

My Monthly Issue: It's All Talk

(Story)

Jan 29, 2019

Benefits of Being an Eagle Scout

(Story)

Dec 21, 2018

My Monthly Issue: Lost In the Times

(Story)

Dec 14, 2018

Do You Read The SPUD?

(Story)

Nov 27, 2018

My Monthly Issue: Giving Thanks

(Story)

Nov 27, 2018

Jacob McCracken: Striking Success

(Story)

Nov 06, 2018

Exchanging Education: Sharing Struggles

(Story)

Oct 27, 2018

My Monthly Issue: My Major Dissapointment

(Story)

Oct 08, 2018

Jumpstart Your Future

(Story)

Oct 05, 2018

Coaches vs Cancer

(Story)

Sep 25, 2018

What is Boys/Girls State?

(Story)

Sep 06, 2018

My Monthly Issue: Round 2

(Story)

May 14, 2018

My Monthly Issue: Peace Out Homies

(Story)

Apr 30, 2018

My Monthly Issue Goes to State

(Story)

Apr 11, 2018

My Monthly Issue: I Am Not Alone

(Story)

Apr 10, 2018

FBLA: Getting Down to Business

(Story)

Mar 15, 2018
Feb 27, 2018

My Monthly Issue: Love Struck

(Story)

Feb 22, 2018

Dylan Horton: Anchors Away

(Story)

Feb 21, 2018

FBLA: March of Dimes

(Story)

Jan 30, 2018

My Monthly Issue: Double Trouble

(Story)

Jan 15, 2018
Dec 20, 2017

My Monthly Issue: They're All Getting Coal

(Story)

Dec 08, 2017

Unified Bowling Wins State!

(Story)

Nov 15, 2017

My Monthly Issue Goes to Lincoln

(Story)

Nov 06, 2017

Key Club: "Rock"in' with the Military

(Story)

Oct 26, 2017

FBLA Installation

(Story)

Oct 10, 2017

My Monthly Issue: The Initial Shock

(Story)

Sep 25, 2017

Dr. Troy Unzicker: Superintendant

(Story)

Sep 18, 2017

Ms. Laura Schroer: Science

(Story)

Sep 12, 2017

Mrs. Vicky Joule: Science

(Story)