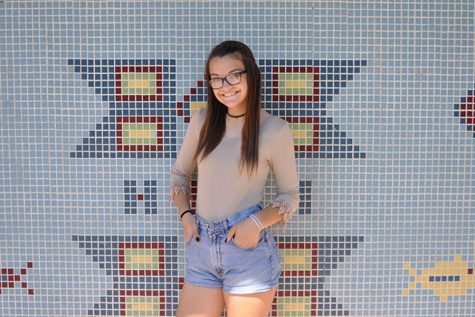 Hey Spud buds! My name is Safyre Yearling! I am the 17 year old daughter of the late Amanda Preiss and Lance, and my amazing mother figure, Mandy. I am the oldest of three blood siblings: Jordyn, Izaiha, and Kyson; however, I have recently been blessed with an older brother named Trevor.
I am in my senior year, here at AHS and this is my third year writing for the SPUD. I am extremely excited to continue to improve my journalistic writing and to continue keeping my readers updated on upcoming games! This year, I have the privilege of taking on the responsibilities of Co-Editor-in-Chief, along with fellow writer, Autumn Hoff.
I am typically a very busy person. I work at the local Dairy Queen, where I spend a great deal of my time and I am also dedicated to numerous extracurricular activities. I am a member of the AHS Key Club, Public Relations Officer of National Honor Society, Secretary of the senior class, and a member of the cheerleading team. When I do get a day off, you can find me nose deep in a good book or at my computer desk, playing
The Sims.
After high school, I plan to attend Doane College in Crete to study History Education; however, because life doesn't always work in our favor, my second choices are Black Hills State University or University of Nebraska - Kearney!
I have big ideas for this coming year and I am super excited to expose my readers to any and all things going on locally and nationally!
Safyre Yearling, Co-Editor-in-Chief
May 03, 2018

One Last Story: My Senior Farewell

(Story)

Apr 25, 2018

State Journalism 2018

(Story)

Apr 20, 2018

Prom: Saving a Pretty Penny

(Story)

Mar 28, 2018

NHS: 2018 Induction Ceremony

(Story)

Mar 26, 2018
Mar 16, 2018
Mar 16, 2018

NHS: Recycling for a Cause

(Story)

Feb 20, 2018

Eight to State: State Wrestling 2018

(Story)

Jan 17, 2018

NHS: Cupcakes and Cocoa

(Story)

Jan 09, 2018

The "DL" on the "DM"

(Story)

Dec 18, 2017

Tax Reforms: A Summary

(Story)

Dec 11, 2017

AP Test: Why Take It?

(Story)

Nov 16, 2017

2017 – 2018 Boy's Basketball Season Preview

(Story)

Nov 06, 2017

National Honor Society and CAPstone

(Story)

Nov 02, 2017
Oct 23, 2017

National Honor Society Tips and Tricks

(Story)

Sep 26, 2017

Our Reality: A Senior Year Without

(Story)

Sep 07, 2017

Upcoming Games: September 2017

(Story)

Aug 25, 2017

Tin Foil, T Shirts, and Totality: 2017 Solar Eclipse

(Story)

May 22, 2017

With Love, Me: the Lost Art of the Love Letter

(Story)

May 02, 2017

Upcoming Games: May 2017

(Story)

Apr 26, 2017
Apr 04, 2017

Cheerleading Tryouts 2017

(Story)

Apr 03, 2017

Upcoming Games: April 2017

(Story)

Mar 16, 2017

I Really Am Socially Awkward

(Story)

Mar 07, 2017

Upcoming Games: March 2017

(Story)

Feb 17, 2017

AHS Takes On 2017 Clash at the Cook

(Story)

Feb 13, 2017

Bulldogs spread PAWSitive thoughts

(Story)

Feb 02, 2017

Upcoming Games: February 2017

(Story)

Jan 20, 2017
Jan 05, 2017
Jan 05, 2017

Upcoming Games: January 2017

(Story)

Dec 21, 2016

AHS Christmas Sweater Contest

(Story)

Dec 02, 2016

Upcoming Games: December 2016

(Story)

Nov 11, 2016

Love Trumps Hate: Americans React to the Election

(Story)

Nov 08, 2016

Just the Facts: Presidential Election 2016

(Story)

Nov 01, 2016

Upcoming Games: November 2016

(Story)

Oct 18, 2016

Band from Three Perspectives

(Story)

Oct 04, 2016

Upcoming Games: October 2016

(Story)

Sep 27, 2016

Sitting for a Cause

(Story)

Sep 09, 2016

#NoDAPL Movement Reaches Alliance

(Story)

Sep 07, 2016
Sep 01, 2016

Upcoming Games: September 2016

(Story)

May 04, 2016

Upcoming Games: May 2016

(Story)

Apr 12, 2016

When Does It Matter?

(Story)

Apr 05, 2016

Upcoming Games: April 2016

(Story)

Mar 14, 2016

Erin Andrews awarded $55 million in peeping tom case

(Story)

Mar 04, 2016

Upcoming Games: March 2016

(Story)

Feb 11, 2016
Feb 04, 2016

Upcoming Games: February 2016

(Story)

Jan 20, 2016

Aid reaches poverty stricken town

(Story)

Jan 07, 2016

Upcoming Games: January 2016

(Story)

Dec 09, 2015

Open Letter to Those Who've Lost Someone Dear to Them

(Story)

Dec 07, 2015

Do We Appreciate Our Custodians?

(Story)

Dec 01, 2015

Upcoming Games: December 2015

(Story)

Nov 11, 2015

Mr. Zadina: US History and Tech

(Story)

Nov 10, 2015

"UFO" Lights Up More Than Just The Skies

(Story)

Nov 04, 2015

Upcoming Games: November 2015

(Story)

Oct 28, 2015

Stadium Gets Some Color

(Story)

Oct 08, 2015

Upcoming Games: October 2015

(Story)

Sep 29, 2015

Mr. Bailey: Activities Director

(Story)

Sep 18, 2015

Mr. Shroyer: Business

(Story)