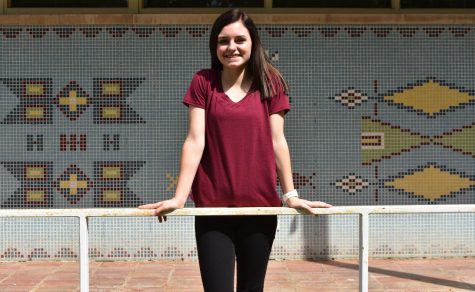 Hi everybody! I'm Nikki Haller. I am a sophomore at AHS and this is my first year writing for the SPUD. I am the 15 year old daughter of Tonya Haller and Mark Haller. I have a 21 year old brother, Cameron Nagaki, and a 6 year old sister, Leighton Haller.
I am a manager for the AHS wrestling team, and I also run track. Typically, I try to keep myself busy with all the activities I involve myself with year-round. In my free time, I enjoy spending time with friends and family.
After high school, I plan to further my education at Chadron State College or UNK. I would either like to study education, or nursing. When I am not at school, I love watching movies and I enjoy listening to music. I am very excited for my first year writing for the SPUD!
Nikki Haller, Staff Writer
May 14, 2019

Seniority, Does It Really Matter?

(Story)

May 13, 2019

B-6 District Track & Field Meet

(Story)

May 02, 2019

Social Media Trends; Viral Dances (So Far)

(Story)

Apr 29, 2019

Prom Preparation: Tanning Beds

(Story)

Apr 15, 2019
Mar 29, 2019

Roger Nason: Passing The Baton

(Story)

Mar 27, 2019

Off-Season Practice

(Story)

Mar 25, 2019

Cheer Tryouts 2019

(Story)

Feb 28, 2019
Feb 28, 2019

Are Indoor Practices As Beneficial?

(Story)

Feb 21, 2019
Feb 04, 2019

Wrestling : Alliance vs. Torrington

(Story)

Jan 29, 2019

What Is The Purpose Behind School Dress Codes?

(Story)

Jan 17, 2019

New Year's Resolutions

(Story)

Dec 21, 2018

Teacher By Day, Parent By Night

(Story)

Dec 17, 2018

An Athlete's Nightmare

(Story)

Nov 28, 2018

2018-19 Alliance Wrestling Preview

(Story)

Nov 19, 2018
Nov 06, 2018

Classes : Hardest/Most Beneficial

(Story)

Oct 24, 2018

Volleyball : Pilfold Invite/Pink Out

(Story)

Oct 12, 2018

Wrestling Builds Better Football Players?

(Story)

Oct 03, 2018

Twin Cities Invite

(Story)

Sep 20, 2018
Sep 06, 2018

2018 AHS Volleyball Preview

(Story)

Sep 03, 2018

Mr. Lee Barrow : ACT Prep & Geometery

(Story)