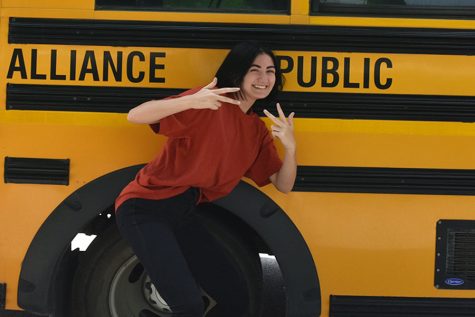 Hello everybody. My name is Margaret Hoff and this is my second year writing for the Spud. This year, as a Junior, I have been promoted to Web Editor. I will also be creating new cartoons for the paper this coming school year. Along with those responsibilities I will be continuing to write the Upcoming Movies stories.
In my personal life, I am the middle child of Timmothy and Susan Hoff. I have one older sister, Autumn, who is now attending Chadron State College and one younger brother, Henry, who will be in fifth grade this year. My parents are also very present in my life. My mother is a nurse, and my father is an artist. This kind of clash between left and right brained parents gives me a lot of varying views many others might not have.
Apart from my home life, I am also involved in a few activities. I'm a three-year member of the art club, head quad in the marching band, and a new member of Future Business Leaders of America (FBLA). I also work at the local movie theatre.
I hope you enjoy our new staff this year and all the new stories we will be putting out as a whole. Be sure to check back on the site every week or so, so you can be updated on everything going on around Alliance High School. And most of all, never forget to support your school newspaper!
Margaret Hoff, Web Editor
May 16, 2019
May 02, 2019

Upcoming Movies: May 2019

(Story)

Apr 25, 2019

State Journalism 2019

(Story)

Apr 12, 2019
Apr 09, 2019

Upcoming Movies: April 2019

(Story)

Apr 01, 2019

Us: A Different Kind of Thriller

(Story)

Mar 12, 2019

"The Luck of the Irish"

(Story)

Mar 06, 2019

Upcoming Movies: March 2019

(Story)

Feb 26, 2019

"National Emergency"

(Story)

Feb 14, 2019
Feb 06, 2019

Upcoming Movies: February 2019

(Story)

Feb 03, 2019
Jan 16, 2019
Jan 09, 2019

Upcoming Movies: January 2019

(Story)

Dec 20, 2018

"Christmas Gifts"

(Story)

Dec 04, 2018

Upcoming Movies: December 2018

(Story)

Nov 28, 2018
Nov 13, 2018
Nov 06, 2018

Upcoming Movies: November 2018

(Story)

Oct 31, 2018

This Story Could be Fake News

(Story)

Oct 09, 2018

"Homecoming Spirit"

(Story)

Oct 05, 2018

Upcoming Movies: October 2018

(Story)

Sep 25, 2018

Mr. Jeremy Eskam: Band

(Story)

Sep 07, 2018
Sep 04, 2018

Upcoming Movies: September 2018

(Story)

May 03, 2018

Upcoming Movies: May 2018

(Story)

Apr 20, 2018
Apr 05, 2018

Upcoming Movies: April 2018

(Story)

Mar 15, 2018

A Trial Size Version of the Vegan Life

(Story)

Mar 02, 2018

Upcoming Movies: March 2018

(Story)

Feb 16, 2018
Feb 02, 2018

Upcoming Movies: February 2018

(Story)

Jan 21, 2018

The New Age of Musicals?

(Story)

Jan 04, 2018

Upcoming Movies: January 2018

(Story)

Dec 12, 2017
Dec 01, 2017

Upcoming Movies: December 2017

(Story)

Nov 14, 2017

Drumline: A Different Beat

(Story)

Nov 02, 2017

Upcoming Movies: November 2017

(Story)

Oct 19, 2017

Iconic Teen Movies

(Story)

Oct 09, 2017

Upcoming Movies: October 2017

(Story)

Sep 18, 2017

Mr. Mark Custer: Science

(Story)

Sep 11, 2017

Ms. Andrea Jay: History

(Story)