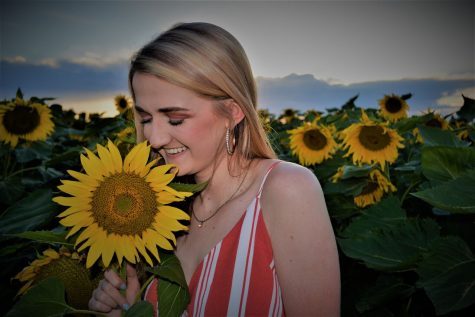 I'm Brielle Alwin. I'm a senior here at AHS and this is my first year with the SPUD. I am seventeen years old and have lived in Alliance for thirteen years.
I am the daughter of Shannon Alwin and Jason Seidler of Alliance, Nebraska and Scott and Larry Alwin of Gering, Nebraska. I am the youngest of three daughters. Both my sisters, Brayla, twenty-four, and Bailey, nineteen, have graduated from AHS.
I am involved in many activities and clubs. I participate in choir, One Act, Musical, and National Honors Society. I have done choir all four years, Velocity for my first two years, and Harmonics for the last two. I am one of two choir officers for Harmonics. I am also a four time One Act and Musical member.
After high school, I plan to attend college and study Secondary Music Education and Theatre. I want a career in something I am passionate about. My parents always referred to me as a "drama queen" growing up, I think they knew I would fall in love with theatre and drama.
My hobbies include listening to music, hanging out with friends, binge watching Netflix shows, and taking naps. I have two dogs, Brody and Bella Ann, and a goldfish named Herbert Norman.
Brielle Alwin, Staff Writer
May 07, 2019

My Final Farewell

(Story)

Apr 23, 2019
Apr 16, 2019

The Last and Final Wrap

(Story)

Apr 15, 2019
Mar 27, 2019
Mar 19, 2019

A Sucker for the JoBros

(Story)

Mar 06, 2019

Luke Perry: Devastating Death

(Story)

Feb 25, 2019

Scouting for the Cure

(Story)

Feb 22, 2019
Feb 14, 2019

How to Be Single on Valentine's Day

(Story)

Jan 29, 2019

The Stress of a Grad Party

(Story)

Jan 18, 2019

Upcycling with Consignment

(Story)

Jan 15, 2019
Dec 17, 2018

The Lasts of Senior Year

(Story)

Dec 06, 2018

Life Behind the Curtain

(Story)

Nov 26, 2018

Lockers vs Backpacks

(Story)

Nov 14, 2018

Operation Christmas Child

(Story)

Nov 06, 2018

Old West ChoirFest

(Story)

Oct 25, 2018
Oct 17, 2018

Senior Year: The New Normal

(Story)

Oct 08, 2018

One Act: Theatre Day

(Story)

Sep 27, 2018

Living in the Shadow of Your Older Sibling

(Story)

Sep 19, 2018

The Secret Life of Hosting A Foreign Exchange Student

(Story)

Sep 06, 2018

Ms. Sydnie Hiemstra: Secretary

(Story)